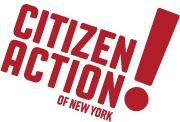 Citizen Action of New York

Community Organizer
Based in Utica, NY

The fight to transform our society will not be won or lost at the ballot box in November 2020. The roots of our systemic oppression go back hundreds of years, and it is only through deep relational organizing that we can build the multiracial, intergenerational community power we need to cast off our collective shackles and achieve liberation.
This work isn't easy and it's not for the faint of heart. Fighting racism, sexism, and xenophobia on a regular basis is challenging, but immensely purposeful work. For someone looking to have a deep and direct impact on society, community organizing is the most rewarding job on the planet, and if you want to truly turn the establishment status quo on its head, then you should apply for this job.
Here's what we're looking for in you:
Passion for social change and justice. Unwillingness to accept the status quo. Determination to help bring about a new, just, and equitable future.

Genuine curiosity about the lives and passions of your fellow human beings. A willingness to ask deep, probing questions that get to the heart of people's lived experiences.

Comfortable with the idea of leading from the back. Not needing to be the center of attention but willing to guide others into leadership roles. Helping people learn to speak for themselves.

Strong communication skills. Spoken, written, social. You'll need to be able to digest complicated information and spit it back out quickly and effectively using a variety of methods to mobilize volunteers and members to take action on an issue.

Willing to do unglamorous work, like making thousands of phone calls or knocking on hundreds of strangers' doors. It's not all press conferences and rallies.

Flexibility in adapting to dynamic circumstances. Comfortable with ambiguity and constantly moving pieces. Willingness to walk with vision in a world where the details are sometimes blurry and always changing.

Hunger to learn and grow, even if it means leaning into your own discomfort at times.

Demonstrated ability to build relationships across race, class, age, and gender.
Your responsibilities will include:
Dedicated daily community outreach that includes but is not limited to phone banking and door knocking.

Volunteer recruitment, management, development, and retention.

Conducting one-to-one relational meetings with prospective members and volunteers.

Recruiting dues paying members to the organization and assisting with chapter fundraising efforts.

Organizing volunteer-led events and activities.

Timely database management and upkeep.

Working under the direction of the Regional Director to build community power.
Citizen Action of New York is a statewide organization dedicated to racial, social, economic, and environmental justice. We have 8 chapters around the state, each with its own vibrant local leadership and local campaigns. In Central New York, we are focused heavily on education and housing as our priority issues. You will be working out of our office in Utica, New York, and will report directly to the Lead Organizer on the ground in Utica.
The job is a full-time position with a benefits package that includes health care, vacation days, and a 401k program.
To Apply
Please submit your résumé and cover letter here: https://nexusmanagement.bamboohr.com/jobs/view.php?id=88.
WHEN APPLYING: Be sure to indicate that you saw this information at UNIONJOBS.COM.