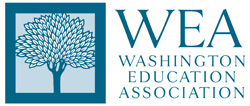 Washington Education Association

Field Assistant II
Lake Washington UniServ Council
Based in Kirkland, WA

The Washington Education Association is seeking applicants for the Field Assistant II position. This position is currently available to internal and external applicants.
To be considered for this position the following documents are required:
Cover letter

Updated résumé reflecting qualifications for this position

Signed WEA application form

List of three (3) professional references (w/contact information and relationship)
A completed Washington Education Association application form is required and attached as a link at the end of this document. In addition, applications may also be obtained at the Washington Education Association located at 32032 Weyerhaeuser Way South, Federal Way, WA 98001, or by calling Human Resources at 253-765-7002 or 1-800-622-3393 extension 7002.
The deadline for receipt of cover letter, résumé, signed application and list of references is on or before Friday, October 22, 2019.
Please submit your application materials online by following the link at the end of the job description. If you have questions or require assistance, contact Karen Knight at the email address or phone number shown below.
Washington Education Association
Attn: Karen Knight, Human Resource Generalist / Human Resources
PO Box 9100
Federal Way, WA 98063-9100
FAX (253) 946-4726
PHONE (253) 765-7002
kknight@washingtonea.org
The Washington Education Association is an equal employment opportunity employer. It is the desire of the Washington Education Association to interview applicants from an applicant/interview pool that reflects the diversity of the greater community for each vacancy as it occurs.
Field Assistant II – Lake Washington UniServ Council – Kirkland, WA
Location & Demographics: The Lake Washington UniServ Council is located at 10604 NE 38th Pl NE – Ste. #212 – in Kirkland, WA. With over 2,000 members - comprised of teachers, counselors, library media specialists, school psychologists, SLPs, OTs, PTs and other Support Specialists - the LWEA takes great pride in serving the needs of its members. LWEA tirelessly strives to advocate for members' legal, professional, contractual and human rights, promote members' professional growth, foster increased community support for and involvement in public education, and provide timely and transparent communication among all members and leaders.
Job summary and essential job functions
The Field Assistant serves as a receptionist and primarily performs clerical duties in support of council activities. These include, but are not limited to:
Greet visitors and direct phone calls

Assist with coordinating meetings/trainings; first point of contact for questions

Format/produce training email blasts and manage events

Accurately/efficiently enter and audit monthly membership records

Produce reports and materials from computer records and documents

Compile and maintain various databases and working files

Maintain all association bargaining contracts – electronic and paper versions

Maintain and regularly update Council web page

Assist members and staff with problems; research questions and provide information and materials when necessary

Assist with maintaining office equipment

Attend Council events and meetings when necessary

Maintain the main office master calendar and other Outlook calendars

Assist with setup/cleanup of rooms for meetings

Perform other duties as assigned
Attendance, punctuality, a positive attitude and an ability to demonstrate grace under pressure are crucial in accomplishing the ongoing job functions of this position. Strong interpersonal skills are a must! This position is covered under the WEA/WEASO Collective Bargaining Agreement.
Minimum job requirements
High school graduate or GED equivalent

Two years secretarial or equivalent experience

Ability to type a minimum of 50 wpm using PC word processing software

Proficient at PC compatible programs, i.e., Microsoft Word, Outlook, Excel and Publisher

Experience with database software

Proficient with web page and desktop publishing software

Demonstrated secretarial skills including word processing, filing, proofreading, document retrieval, creating spreadsheets and screening calls

Ability to generate documents and data quickly with a high degree of accuracy

Ability to compose, draft, edit, proof and produce quality professional correspondence

Ability to learn membership data system (NEA360) requiring strong familiarity with database systems used to track detailed information; ability to generate database reports based on user requests; ability to understand how data is used in the decision-making process

Strong interpersonal skills, including experience in dealing with members

Proven success in building and maintaining cooperative and productive relationships with diverse individuals internally and externally

Self-starter with demonstrated initiative and flexibility with changing priorities

Well-organized with attention to detail; ability to effectively prioritize work

Pleasant, clear telephone voice and ability to enunciate and pronounce words clearly to be understood over the phone

Ability to keep client information confidential

Ability to confront and resolve conflict constructively

Ability to relate in a positive, diplomatic and patient manner

Ability to understand the relevance and importance of diversity and inclusion both internally and externally, and the impact that a diverse workforce has on creativity and innovation

Must support and help advance the WEA mission, goal, core values and priorities
Preferred job requirements
Experience with meeting, conference and/or event planning

Experience with mail merge

Experience with accessing and use of the Internet and electronic communications

Experience in public education, unions or related employment
Salary range and benefits
Monthly salary range: Level II (B) – $3,714 to $5,495
Benefits:
Medical, Dental, Vision and Life Insurance

Generous Sick and Paid Time Off (PTO) leaves

Long-term Disability

Defined Benefit Plan

Defined Contribution Plan (w/employer contribution)

Position covered by the WEA/WEASO Collective Bargaining Agreement
Application procedure and references
In order to be considered for this position, a completed and signed WEA application form including résumé, cover letter and three (3) professional letters of reference from associates who have professional knowledge of the applicant's background and work experience, must be received on or before October 22, 2019. Use of the online application process is encouraged.
Important Note: When submitting your application materials online, select "Save as Draft" until you have all materials together and ready to be attached and uploaded – i.e., cover letter, resume and a list of three professional references (w/contact information and relationship). This will ensure your application materials remain together as a single submission. Please submit your application materials online by following the link below.
WHEN APPLYING: Be sure to indicate that you saw this information at UNIONJOBS.COM.