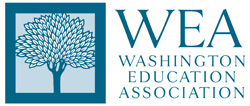 Washington Education Association

Reception/Facilities Coordinator
Level III
Based in Federal Way, WA

The Washington Education Association is seeking applicants for the Reception/Facilities Coordinator – Level III position. This position is currently available to internal and external applicants.
To be considered for this position the following documents are required:
Cover letter

Updated résumé reflecting qualifications for this position

Signed WEA application form

Names and contact information for 3 professional references
Washington Education Association application forms are required and may be obtained by selecting 'Online Application' located at the end of this document. Applications may also be obtained at the Washington Education Association located at 32032 Weyerhaeuser Way South, Federal Way, WA 98001, or by calling Human Resources at (253) 765-7002 or 1-800-622-3393 extension 7002.
The deadline for receipt of cover letter, résumé, signed application and references is on or before October 22, 2019.
If you do not submit materials online, please mail, fax, or email applications to:
Washington Education Association
Attn: Karen Knight, WEA Human Resource Generalist
PO Box 9100
Federal Way, WA 98063-9100
253-765-7002 (Direct)
Fax (253) 946-4726
kknight@washingtonea.org
The Washington Education Association is an equal employment opportunity employer. It is the desire of the Washington Education Association to interview applicants from an applicant/interview pool that reflects the diversity of the greater community for each vacancy as it occurs.
Job Description - Reception/Facilities Coordinator – Level III
Supervision: The position performs duties under the direction of the Director of Human Resources, Facilities and Information Technology.
Purpose: The position is a multi-faceted facility position responsible for reception/switchboard duties, administrative support, copy center activities, meeting logistics, and backup custodial service as needed. Position may also have technology-related responsibilities associated with audio/visual systems and other technology needs related to meetings rooms and phones systems.
Minimum job requirements and essential job functions
Experience with multi-line switchboard telephone system; excellent caller-assessment skills and judgment necessary to field and forward calls appropriately to various WEA departments/centers

Personable, people-person with strong customer service/communication skills

Experience working with diverse groups of people

Knowledge and appreciation of union values

Ability to develop and maintain cooperative workplace relationships

Ability to problem-solve and use creative thinking in the course of the work

Must be able to use independent judgment and discretion

Provide telephone administration assistance related to workstation set-ups and 'inclement' weather messaging

Ability to learn A/V equipment operation and basic technology troubleshooting as needed

Assist with the set-up of technology used for Power Point (or similar software) presentations

Provide training for relief switchboard operators

Maintain accurate and up-to-date Association reference materials, i.e., phone lists, UniServ Council contact information, etc.

Assist with meeting room set-ups, catering, ordering and other meeting room logistics using the online meeting room calendar

Serve as a backup copy center/mailroom assistant as needed

Monitor incoming deliveries (UPS, FedEx, USPS) and outgoing mail and package pickup; notify building personnel of deliveries as appropriate

Provides backup custodial services as needed; must be able to bend, lift up to 50 lbs., and use building/facility equipment to maintain building operations

Regular and consistent attendance and punctuality are crucial in accomplishing the functions of this position

Ability to maintain confidentiality

May be assigned work associated with building safety protocols and safety planning

Ability to learn facility A/C programming system, alarm, and other building systems as required

Two to three years' customer service experience with a minimum of one-year receptionist/switchboard operator experience

Ability to resolve room scheduling conflicts as required; ability to successfully work with caterers and other facility-related vendors.

Proficient computer skills using the Microsoft suite of products

Ability to communicate using email; ability to draft correspondence and track data associated with building use

Ability to multi-task and remain flexible with ongoing varying tasks

Ability to maintain composure handling incoming phone calls or visitors, sometimes under difficult or stressful situations

Ability to relate in a positive, diplomatic and patient manner with callers and diverse groups of building visitors

Ability to enunciate clearly to be easily understood over the telephone

Ability to work on a team as well as independently, carry out assignments to completion with minimal instruction, and adhere to prescribed routines and practices

Ability to work a flexible work schedule and during office closures; must be available from 8:00 a.m. to 4:30 p.m. Monday through Friday unless otherwise approved by supervisor; must be available for occasional overtime and weekend work as required

Must be dependable and prompt

Must support and help advance the WEA mission, goals and core values

Ability to occasionally travel overnight as required to support the WEA Representative Assembly or other WEA meetings/venues

Other duties as assigned
Preferred job requirements
College classes and/or 2-year Associate's Degree

Technology Help Desk experience is a plus

Experience in accessing and use of Internet and electronic communications

Valid WA State Driver's License
Salary and benefits
Annual salary range: Level 3 - $62,225 to $88,761
Benefits:
Medical, Dental, Vision and Life Insurance

Generous sick and paid time off (PTO)

Long-Term Disability

Defined Benefit Plan (Employer-paid retirement plan)

Defined Contribution Plan (401(k) Plan - w/employer contribution)

Covered by the WEA/WEASO Collective Bargaining Agreement
Application procedure and references
In order to be considered for this position, a completed and signed WEA application form including résumé, cover letter and a list of three (3) letters of reference (w/contact information and relationship) must be received on or before October 22, 2019.
Applicants must provide a list of three references representing individuals who have professional knowledge of the applicant's background and work experience. Reference information must include names, current email addresses, telephone numbers, and relationship to applicant.
Important Note: When submitting your application materials online, select "Save As Draft" until you have all materials together and ready to be attached and uploaded – i.e., application, cover letter, resume and a list of three professional references. This will ensure your application materials remain together as a single submission.
WHEN APPLYING: Be sure to indicate that you saw this information at UNIONJOBS.COM.