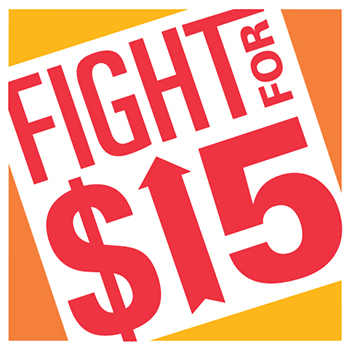 SEIU National Fast Food Workers Union

Canvasser
(with opportunity to become an Organizer)
Fight for $15
Based in Chicago, IL

The Fight for $15 campaign demands a $15 living wage and the right to form a union without retaliation for all fast food workers. It is one of the largest and most exciting organizing campaigns for low wage workers in the country.
JOB DETAILS
POSITION: Canvasser with opportunity to become an Organizer.
Main duties are to recruit fast food workers to join the fight for $15 and a union and develop leadership to create worker power in fast food restaurants.
Potential to be hired for salaried position starting at $48,000 + $5,500 car allowance + $1,200 phone + full benefits after a trial period as a Canvasser at $20 an hour.

$15 per day fuel/phone stipend.

No prior organizing experience needed.

Bilingual (English/Spanish) speaking ability is strongly preferred.

Monolingual Spanish (Okay)

Monolingual English (Okay)

Must have a reliable insured car and valid driver's license.

Must be flexible and willing to work long hours, evenings, and weekends when needed.
How to Apply
Candidates are invited to apply at the following link:
https://workforcenow.adp.com/jobs/apply/posting.html?client=SEIUNFFWU&ccId=19000101_000001&type=JS&lang=en_US
WHEN APPLYING: Be sure to indicate that you saw this information at UNIONJOBS.COM.