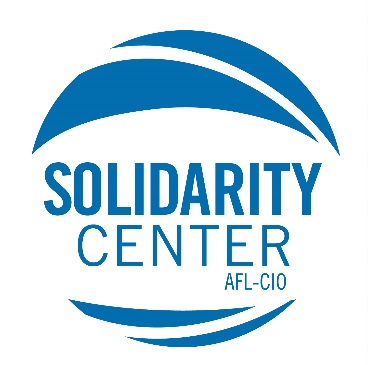 Solidarity Center

Country Program Director – Serbia
Based in Belgrade, Serbia

The Solidarity Center is the largest U.S.-based international worker rights organization. Its programs are based on the principle that, by exercising their right to freedom of association and forming trade unions and democratic worker rights organizations, working people can collectively improve their workplaces, call on governments to uphold laws and protect human rights, and be a force for democracy, social justice and inclusive economic development. Its programs in more than 60 countries focus on human and worker rights awareness, union skills, occupational safety and health, gender equality, migration and human trafficking and pro-legal strategies, as well as bolster workers in an increasingly informal economy. Founded in 1997 by the AFL-CIO to tackle the enormous challenges workers face in the global economy, the Solidarity Center works to promote democratic rights and respect for workers; raise public awareness about abuses of the world's most vulnerable workers; and, above all, help the world's workers secure a voice in their societies and the global economy.
The Solidarity Center seeks a Country Program Director to lead the work of advancing the organization's mission in Southeast Europe. The Country Program Director reports directly to the Solidarity Center's Regional Program Director for Europe and Central Asia, and works in close partnership with the U.S. labor movement, global union federations, and unions and worker organizations. The position is currently based in Belgrade, Serbia, implementing activities in Serbia, Montenegro, Bosnia and Herzegovina, Albania, and Kosovo. While the Solidarity Center prefers to continue the base for this position in Belgrade, another base location in the sub-region could become necessary for operational reasons.
Please note the following requirements:
Excellent writing and communications skills in the English language;

Proven program management abilities, including activity implementation, monitoring, evaluation, reporting and financial management;

Experience interacting with funding organizations and ability to draft and present funding concepts and proposals.

Knowledge of international relations and trade union developments in the U.S. and abroad; and,

Trade union experience.
The following experience is highly desirable:
Experience in contract negotiations, and ability to negotiate with local and foreign contractors;

Experience as a trainer and facilitator, including developing materials and conducting training using effective education training methods, especially on the topics of occupational safety and health, organizing and collective bargaining;

Experience implementing occupational safety and health programs with local partners;

Experience addressing intersectional equality and inclusion issues in the world of work, and integrating intersectional equality and inclusion into the overall strategic goal of supporting labor rights in the countries of assignment;

Experience in strategic campaign planning, campaign research, and implementation;

Experience building alliances, coalitions, and networks that promote democratic societies;

Experience planning and implementing a proactive legal agenda for worker justice;

Knowledge of the general social and political history of Southeastern Europe over the past three decades;

Ability to work in one or more of the languages of the sub-region: Serbian, Montenegrin, Bosnian, or Albanian.
The duration of this position, as with all positions at the Solidarity Center, is contingent upon continued grant funding. Normally a field assignment is at least three years but no more than six years, with the expectation of transfer to another post at the end of the assignment.
Apply HERE!
WHEN APPLYING: Be sure to indicate that you saw this information at UNIONJOBS.COM.