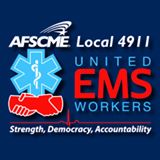 AFSCME Local 4911
United EMS Workers

Labor Representative
Covering the Northern California Bay Area

Job Title: Labor Representative
Status: 1 full-time position located in Northern California Bay Area.
Immediate Supervisor: President/Executive Director, under the direction of the Executive Board of Directors.
Salary: Competitive salary and benefits package. Must adhere to salary requirements as set forth by UEMSW-AFSCME Local 4911 bylaws and relevant collective bargaining agreements.
To Apply
Applicants must submit a résumé or CV and a cover letter to: jason.brollini@uemsw.org.
Your cover letter should include qualifications, goals, and experience working with EMS professionals and/or labor unions.
Job Summary:
The Labor Representatives shall conduct the affairs of the local in accordance with the AFSCME Constitution and UEMSW-AFSCME Local 4911 Bylaws and within policy decisions of the Local 4911 Executive Board of Directors. The Labor Representative handles matters related to collective bargaining, contract administration, and organizing.
Job Duties:
Effectively address member and employer questions and problems.

Ensure compliance with collective bargaining agreements.

Maintain contracts, attend labor management meetings, process grievances, attend member investigatory meetings, and file unfair labor practices.

Prepare for arbitrations.

Participate in contract campaigns and assist with collective bargaining efforts.

Attend meetings, pickets, seminars, and conferences.

Visit worksite locations and engage with membership.

Communicate and interact with the union membership.

Act as liaison between membership and Executive Board of Directors.

Recruit, train, assist, monitor, and utilize stewards.

Participate in local and state political action and actively participate in local labor councils (CLCs).

Conduct one-on-one organizing both internally and externally, recruit supporters and leaders, guide their activities on behalf of the union, and identify attitudes of individual workers.

Recruit volunteer organizers from within the United EMS Workers/AFSCME membership.

Develop broad representative organizing committees of worker-leaders.

Visit job sites to communicate with workers.

Visits workers in their homes.
Job Requirements:
Strong commitment to social justice and building the labor movement.

Experience and training necessary to conduct contract negotiations.

Ability to work with and organize a wide variety of people.

Proven ability to organize and plan work.

Leadership skills to educate and motivate members.

Ability to manage multiple tasks simultaneously.

Ability to exercise sound judgment in complex situations.

Strong public speaking skills.

Ability to write well and author letters, newsletters, and contract language.

Knowledge of or ability to acquire computer skills.

Ability to work in an autonomous environment.

Must be a self-starter and be able to demonstrate a natural self-motivation toward tasks and areas of responsibility.

Ability to use every day emerging technology.
Preferred
BA Degree in related field.

Has experience working with or in the EMS field.
WHEN APPLYING: Be sure to indicate that you saw this information at UNIONJOBS.COM.