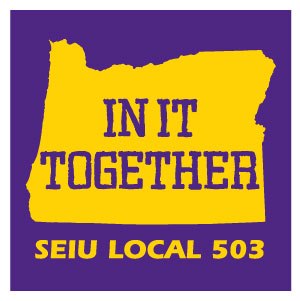 SEIU Local 503

Organizing Assistant
Bilingual Preferred
Based in Portland, OR

SEIU 503 is a union of 72,000 public workers, care providers, and non-profit employees in Oregon. We envision a just and vibrant society where everyone is treated with dignity and respect, and where all workers can provide for themselves and their families.
PURPOSE OF THIS POSITION: Provide administrative support to field staff, Field Coordinators, Field Directors, the Political Director, and Organizing Director. Provide primary receptionist and telephone coverage for Field offices.
DUTIES:
Prepare a variety of correspondence, reports, spreadsheets, contract proposals, arbitration and fact-finding reports, and other materials, from draft, or general instructions from staff and leadership. Prepare reports, manipulate, pull and administer data in a variety of database and spreadsheet systems including SalesForce, VAN, Google, Filemaker, Blue State Digital (BSD), Survey Monkey and the Membership database (could include other systems).

Prepare and complete nomination and ballot packets for mailing to membership when elections are due for each local. Maintain election reports and materials as required.

Screen and direct walk-ins and telephone callers; provide general information; take clear, concise messages. Refer contract questions to MRC or appropriate steward or staff organizer as required.

Provide support for local government, private-non profit, nursing homes, homecare, childcare, state and university contract bargaining from opening letters based on the open period dates for each contract, ERB letters for non-strikeable units and FMCS notices for private-nonprofit units, initial proposals, preparing notebooks, coordinating the process of converting signed-off proposals to final and complete organized format for proofreading for final contract publication and distribution of printed contracts. Responsible for assisting in tracking opening letter dates, ERB letters and FMCS notice dates and bargaining support of the State of Oregon Central Contract and OUS process.

Maintain office filing systems/server systems; maintain grievance data base, steward and membership data base records; maintain inventory and related records of negotiated contracts. Maintain inventory and distribute supplies as needed.

Coordinate special leader/member activities (Stewards' Conference, Women's' Conference, General Council, statewide conferences, local meetings, local officer travel, regional meetings, others as required). Coordinate travel, catering and meeting arrangements for staff; prepare itineraries, agendas and materials. Maintain tracking spreadsheet, process/approve bills/invoices.

Assist MRC in monitoring grievances through preparation of documents and related data base records. Prepare materials for arbitration screening, including committee member notification, meeting location and travel arrangements. Maintain schedule of meetings held in each office (staff, locals, Board of Directors, or committees).

Periodically attend training and staff meetings.

Coordinate special projects requiring coordinated involvement (i.e., photocopying, production of mailing labels, lists, etc.) with Communications, Production and or Information Services Departments. May perform lead-worker duties with responsibility for casual labor helping with special projects.

Responsible for formulation of and continued updating of office procedures. Prepare flyers/newsletters (determine formats, lettering, desk-top publishing etc.) and assist office staff in coordination and preparation of such.

Process/distribute incoming and outgoing mail; knowledge of bulk mail regulations helpful; maintain inventory of office supplies and order replenishment of supplies from Headquarters as necessary in a timely manner; maintain records related to copier; send out monthly reports to copier company; maintain petty cash and submit appropriate reports to the Accounting Department; responsible for checking out keys to office for meetings if a check-out system is instituted.

Building maintenance duties include monitoring and coordinating with the Facilities Specialist the upkeep of: Building and grounds; Heating/ventilation/air conditioning systems; Security and fire alarm systems; Lighting; Telephone/fax system and other electronic equipment; Fire extinguishers

Participate in union-wide membership drives, political campaigns and other field activities as assigned which may include worksite visits, phone banking, house visits, door-to-door canvassing and literature drops.
REQUIRED SPECIAL SKILLS, WORK EXPERIENCE, LICENSES, OR CERTIFICATES:
Four years previous clerical experience; accurate typing skills over 65 wpm; good English grammar and spelling skills essential; ability to work well in sensitive situations, in person and/or on the telephone; ability to work well in a "team" environment; ability to work well with staff and members on a variety of projects with limited timelines; background as a public employee or with labor unions desirable.
Pay and Benefits: Positions provide comprehensive fully paid health, dental and vision benefits for employee and eligible dependents, domestic partner benefits, generous holiday and vacation policies, and a 15% employer-paid defined contribution 401K. Compensation range is based on experience, $38,892 - $51,576 annually.
Hiring: We are committed to hiring staff who reflect our membership and model the unity and equity that we seek to create in Oregon communities. Women, LGBTQ, people of color, and immigrants strongly encouraged to apply.
How to Apply: Submit your cover letter describing your interest and a résumé in one attachment (PDF preferred) by e-mail to: johnsons@seiu503.org.
WHEN APPLYING: Be sure to indicate that you saw this information at UNIONJOBS.COM.