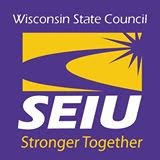 SEIU Wisconsin State Council

State Field Director
Based in Milwaukee, WI

Want to help beat Trump in 2020 and bring a working class voice to politics in Wisconsin that can't be ignored? Join SEIU Wisconsin's electoral team to build a strong, vibrant grass-roots voter contact effort. With about 2 million members nation-wide, SEIU is one of the largest unions in North America. We are dedicated to improving wages and expanding healthcare for working Wisconsinites. Our team will help defeat Trump, elect a champion for labor to the White House in 2020, as well as win Democratic legislative seats. This position will begin in the summer of 2019 and last through mid-November 2020. Applicants must have a passion for racial and economic justice, and be able to commit to the job through the election. They must also be registered to vote if eligible.
Purpose
The purpose of this position is to manage, direct and implement the campaign's statewide political field program, the main focus of which is the 2020 Presidential General Election. The State Director is a leadership position responsible for supervising a statewide field program, Team Leaders, data leads, canvassers and Member Political Organizers (MPOs) assigned to WI. This is a temporary position beginning as early as summer 2019 and ending as late as November / December 2020.
This program is an independent expenditure campaign that prohibits coordination and/or contact with individual Presidential candidates and their campaigns.
Primary Responsibilities
(Any one position may not include all of the specific duties and responsibilities listed. Examples provide a general summary of the work required and should not be treated as a total and complete list of expected duties to be performed by employees in the classification.)
Supervises campaign staff and helps approve staff hires, promotions, demotions, and dismissals.

Works with the Campaign Directors and other leadership staff to implement a statewide voter contact plan, including door-to-door communication with voters.

Responsible for executing all elements of the field plan at the state level.

Holds field staff accountable for achieving all established goals.

Provides both initial and ongoing leadership training to Team Leaders and providing them with the necessary skills and tools to manage canvassers and MPOs.

Coordinates with the Regional Logistics Coordinator and/or relevant vendor(s) to ensure timely receipt of pay, benefits and reimbursements for all staff.

May represent the organization when called upon at various table meetings on the IE side.
Requirements
Excellent oral and written communication skills.

Ability to develop and maintain good working relationships

Ability to lead a team.

Ability to operate autonomously in the field.

Ability to manage the program budget and implement the field plan.

Thorough knowledge of strategies used in political campaigns.

Knowledge and experience with managing voter contact and field campaigns.

Knowledge and/or experience in working with community based organizations (including neighborhood, religious, and civic organizations) and willingness to do outreach to community groups and leaders.

Strong organizational and time management skills.

Ability to manage multiple tasks and meet deadlines in a fast-paced environment.

Must be willing to work long and irregular hours.

Some travel required.
Experience and Education
Five years of political campaign or other relevant experience.

Knowledge of unions and issues that affect working people.

Knowledge of voter registration and voter protection work.

Bilingual skills a plus.
Compensation:
This is a salaried position. The pay range is $65,000-80,000. SEIU Wisconsin will offer a competitive benefits program.
SEIU Wisconsin is an Equal Opportunity affirmative action employer that values and respects the diversity of its staff. Women and people of color encouraged to apply.
To Apply
Send your résumé and cover letter to: seiuwisconsin2020@gmail.com.
WHEN APPLYING: Be sure to indicate that you saw this information at UNIONJOBS.COM.