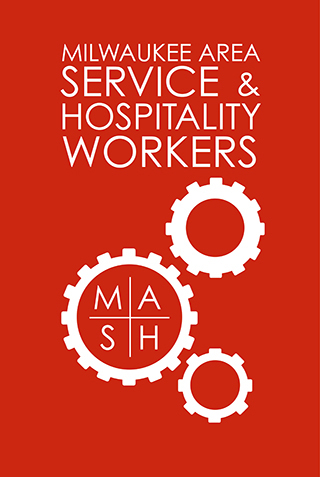 MASH
Milwaukee Area Service & Hospitality Workers Organization

Political Director
Based in Milwaukee, WI

We are seeking passionate people interested in labor organizing to build a multi-sector, multi-racial workers movement with the Milwaukee Area Service & Hospitality Workers Organization (MASH).
MASH is an organization of service, hospitality and other low-wage workers building collective power to raise standards. MASH is a new form of worker organization combining the functions of labor union, hiring hall, worker center, and workforce agency. We launched to implement a landmark community benefits agreement for wage floors, union rights, and a hiring hall for service and hospitality jobs in the new Milwaukee arena district. Now we are working to expand the coverage of living wages and union rights to workers throughout these sectors and even in other industries.
MASH is moving an ambitious, aggressive program to build power amongst workers and raise standards, through industry-/sector-wide organization and bargaining. MASH is hiring a Political Director to lead electoral and other political projects as part of our comprehensive campaign.
Key Responsibilities:
Developing and driving a political strategy and program as a component of a comprehensive campaign to build worker power and strengthen employment standards

Prioritize and manage resource allocation around electing movement champions and maximizing organizational impact on governing processes

Engage with candidates, beginning at recruitment stage, through election and beyond, both to enable candidate success as well as to position union to move overall campaign

Develop ongoing political relationships of depth with candidates and elected officials that translate into a shared project to advance governance in line with our comprehensive campaign

Collaborate with union officers in participation in multi-organizational tables

Leading, managing, coaching, guiding and directing staff working on electoral campaigns, including training, developing and holding accountable.

Developing and executing a plan to ensure significant worker/member participation in political projects, including in collaboration with union officers, representatives and organizers

Identify and create opportunities for campaigns in line with the organizational vision
Required Qualifications:
Demonstrated understanding of and commitment to the labor movement as well as economic and racial justice

Experience and success in electoral campaigns preferred, particularly with individual candidate or candidate-coordinated campaigns; experience in community or union or-ganizations desired

Keen strategic mind, strong faculty with tools of political organizing and electoral campaigns, capable of leadership in a variety of forms

Ability and willingness to work long and irregular hours, including nights and weekends.

Capacity to thrive under pressure in particularly urgent and intense moments

Excellent listening, oral and written communication skills.

Basic computer literacy and ability to learn the organization's technology tools.

Ability to work independently as well as with a team.

Ability to be coached and trained, to be held accountable, and to struggle through difficulty.

Resourcefulness, persistence, loyalty and integrity and strong skills in planning, time-management and problem-solving are a must

Demonstrated ability to work with people from diverse cultures and backgrounds.

Possession of a valid U.S. driver's license, proof of auto insurance, and an automobile for business use.
Compensation:
Salary range starts at $70,000 but commensurate with experience; benefits include fully employer-paid health, dental and vision insurance; cell phone allowance; generous paid time off; and, 6% salary employer contribution to 401(k) account beginning after 6 months of employment. This is a full-time, salaried, overtime-exempt position.
Application Requirements:
A résumé should be sent to: denise.lowe@mashworkers.org, with the subject line "Political Director Application"; no cover letter is required but the email should briefly mention why you are interested in organizing with MASH to build the workers movement.
People of color, women, LGBTQI people, and working class and poor people strongly encouraged to apply.
WHEN APPLYING: Be sure to indicate that you saw this information at UNIONJOBS.COM.