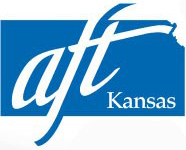 AFT Kansas

Communications Specialist
Based in Topeka, KS

Kansas Association of Public Employees, dba AFT-Kansas, is the State Federation of the American Federation of Teachers (AFT), representing over 15,000 public sector employees (teachers, healthcare workers, higher education, as well as city, county, and state employees).
Salary and Benefits: Salary to be discussed at interview; employer paid health insurance; paid sick days, holidays, and vacation; employer paid life insurance; SIMPLE IRA with up to 3% company match after 1 year of employment; laptop and cell phone provided
This position reports directly to the State Federation President. The communications specialist will be responsible for supporting all aspects of the State Federation's organizing, legislative and political work. Duties include, but are not limited to:
Monitor, update and create content for organizational profiles on social media platforms

Develop digital materials for legislative, political, organizing and other campaigns

Support all digital programs including email, social media, text messaging, website and paid marketing

Produce well-written, concise messaging that supports larger organizational initiatives for social media, email, text messaging programs, press releases, and newsletter content

Train affiliate leaders and member activists in using digital programs

Compile website, email and social networking analytics into reports

Represent our Union as assigned in community and labor coalition activities

Attend and participate in staff meetings and weekly debriefs

Complete all required administrative tasks (i.e., Activity forms, expense forms, etc.) in a timely and accurate manner

May be required to work long and varying hours including weekends, nights and holidays.

Driving long distances for extended periods of time is also required. Travel both statewide and out of state with overnights and periods away from home may be required.
Education and Experience Requirements:
Graduation from an accredited four-year college or university with coursework in communications, journalism, political science or liberal arts

Three to five years of relevant work experience on online communications or any equivalent combination of education and experience which provides the following knowledge, skills and abilities.
Qualifications (Knowledge, Skills, and Abilities):
Demonstrated ability to use online tools to communicate with and motivate target groups to take action, including email, text messaging, social media and paid marketing

Experience creating engaging content for online consumption

Experience using a customer relationship management system (e.g. Action Network)

Robust digital writing skills, with the ability to condense information and convey it clearly and concisely. Ability to train staff with varying skill levels on the use of digital tools.

Knowledge of Adobe Create Suite, with an emphasis on using Photoshop and InDesign. Experience using Excel to compile analytics reports.

Ability to work independently and to collaborate and work well with staff at all levels and in a team environment

Ability to handle heavy workload, juggle competing priorities and work extended hours to meet deadlines.

Flexibility, positive attitude, superior attention to details

Interest in the labor movement and progressive social change.

Required to have a valid driver's license, a working and insured automobile

Capacity to lift up to 25 pounds

Preferred: HTML, CSS and JavaScript coding skills; knowledge of database management; familiarity with digital advertising, such as Facebook Ads Manager; knowledge of digital project management software, methodologies, processes and workflows
To Apply:
For consideration, interested applicants must submit their résumés to: Lisa Ochs, President, 1300 SW Topeka Blvd, Topeka, KS 66612 or by email to: lochs@aftks.org. No phone calls, please.
Equal Opportunity Employer
WHEN APPLYING: Be sure to indicate that you saw this information at UNIONJOBS.COM.