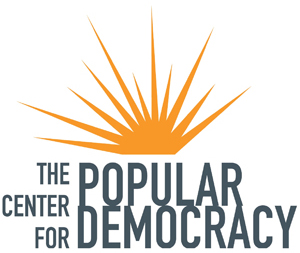 The Center for Popular Democracy

Special Assistant to Campaigns
Based in Washington, DC

About CPD + CPD Action
The Center for Popular Democracy and CPD Action (together, CPD/A) work to promote equity, opportunity, and a dynamic democracy in partnership with innovative base-building organizations, organizing networks and alliances, and progressive unions across the country. We currently work with more than 45 partner organizations in more than 38 states, Puerto Rico, and D.C., and build the strength and capacity of democratic organizations to envision and advance a pro-worker, pro-immigrant, racial and economic justice agenda. We are a rapidly-expanding, changing organization that partners with organizations across the country to build political power and win tangible victories that improve the lives of low-wage workers, immigrants, and communities of color.
About the Position
Are you an experienced and highly regarded right-hand to organizational leaders? Do you love helping other people get organized, set and stick to smart workplans, and navigate complicated, competing priorities? Are you oriented towards problem solving and finding a smart path forward? Are you skilled at managing your own time effectively, and helping others do the same? Do you thrive on keeping a busy team moving efficiently? Do you love juggling a variety of tasks and types of work, without letting anything drop? Do you balance professionalism and levity? Do you care about helping immigrants, communities of color, low-wage workers and other constituencies win tangible improvements in their lives?
We're seeking a full-time Special Assistant to Campaigns committed to getting results in a fast-paced environment and able to handle complex competing priorities with a portfolio including schedule management, records and reports, liaison work with key allies and partners and logistics for convenings and events.
Serving as the key point of contact for the two Chiefs of Campaigns, the Special Assistant to Campaigns will be part of an assistant cohort that supports the CPD/A senior leadership team to maximize their impact and further our mission.
This position will work closely with a range of individuals within and outside of the organization to coordinate projects and initiatives. This candidate must demonstrate effective and efficient project management, and must be capable of exercising initiative, discretion and good judgment. Strong writing skills, professionalism and confidentiality are crucial to this role. As the assistant to the Chiefs of Campaigns, the Special Assistant to Campaigns is the behind-the-scenes key to helping ensure the strongest possible leadership.
This position will report to CPD/A's Chief of Campaigns & Policy, while also supporting CPD/A's Chief of Campaigns & Advocacy. We offer a generous salary and benefits package, commensurate with experience.
Responsibilities
Provide strategic management and oversight of the Chiefs of Campaigns' time with a strong understanding of priorities, ensuring their time is used for only the highest-value reasons, and independent capacity to support on preparation and follow up from meetings.

Manage all administrative support for the Chiefs of Campaigns, including travel support, logistical support, expense reimbursements, and timesheets.

Provide other support to the Chiefs of Campaigns, including supporting meetings (e.g., note-taking or facilitation), administering hiring processes, and providing support for larger meetings coordinated by other Campaigns team members.

Ensure that meetings, deadlines, presentations, and other duties of the executive office are carried out seamlessly.

Provide external relationship management support to enable the senior team to cultivate, facilitate and manage key relationships with allies, funders, and elected officials.

Prepare correspondence, reports/presentations, and assist with planning, research and other writing assignments for both internal and external audiences.

Other duties as assigned, including project management of special projects and initiatives.
Qualifications
In this role, organization, people skills, and writing ability are paramount.
You should have:
Effective communication skills. The ability to clearly communicate with the chiefs of campaigns, the senior leaders, and others in the organization is paramount; especially in fast-paced moments, you'll need to be clear and ask for clarity in return.
Top-notch organization skills. If the books on your bookshelf are in alphabetical order, your notes utilize colors with specific meanings, and you find long to-do lists energizing, we want to talk to you! There's a lot to keep track of in this role, and nothing can fall through the cracks. Meeting deadlines is key.
A sense of ownership. The Special Assistant to Campaigns allows our Chiefs of Campaigns to perform at the highest possible level. A successful candidate will be responsive but also proactive, addressing needs that our Chiefs of Campaigns may not even be aware of. Importantly, the successful candidate will be able to work calmly and intentionally under pressure.
A commitment to confidentiality. In this role, you'll have a window into movement and organizational politics at the highest level – confidentiality is key.
Strong writing and verbal skills. The ability to communicate information clearly is fundamental to this role. You will be asked to draft documents, edit others, and communicate with a variety of internal and outside stakeholders.

10-plus years in a high level administrative role in a not-for-profit organization preferred. We will consider applicants who are new to the assistant role but demonstrate clear aptitude, as well as candidates who have extensive experience in providing this type of support.
Bonus qualifications, not required:
Fluency in Spanish

Experience with Salesforce
We are seeking to fill this position as soon as possible with a negotiable start date.
Salary and Benefits:
The salary range for this position is competitive and commensurate with experience. We have a generous benefits package, including health insurance, dental insurance, vision insurance, 15 vacation days per year, 10 sick days per year, 12 paid holidays per year, and contributions to individuals' 401K plans.
Apply HERE!
CPD/A is an Equal Employment Opportunity employer and actively recruits people of color, women, individuals with disabilities and members of the LGBTQ community.
WHEN APPLYING: Be sure to indicate that you saw this information at UNIONJOBS.COM.