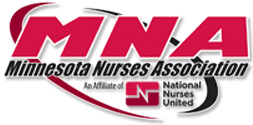 Minnesota Nurses Association
345 Randolph Avenue #200, St. Paul, MN 55102
Fax: 651-695-7000 Web: www.mnnurses.org

Director of Labor Relations
Based in St. Paul, MN

ACCOUNTABLE TO: Executive Director
POSITION DESCRIPTION
Under the direction of MNA's Executive Director, the Director of Labor Relations works collaboratively with other Directors and MNA staff to achieve MNA's strategic goals and priorities through member engagement, representation, and organizing. The Director of Labor Relations is primarily responsible for leading all aspects of the union's labor relations program, which includes: collective bargaining, contract enforcement, and member advocacy. The Director of Labor Relations directs and evaluates the Labor Relations Specialists. This position oversees the planning and effective integration of organizational strategic priorities and their evaluation with the other MNA departments.
MAJOR AREAS OF ACCOUNTABILITY
Collaborate with the Executive Director to ensure the integration of labor and organizing principles and objectives in all program areas.

Serve as liaison to the Board of Directors for all labor relations program activities.

To engage in policy analysis, organizational planning and alignment, and Board and staff development, including serving as staff co-facilitator of the Board's Collective Bargaining Committee.

Evaluate and continuously improve targeted contract negotiation and enforcement programs.

Develop and manage a budget that ensures strong stewardship of members' dues, concentrating on a return for investment for all campaigns.

Develop and implement effective procedures and supporting policies intended to facilitate the achievement of labor relations programs and services.

Advise management staff on matters concerning labor relations, including assisting the Executive Director on internal (staff union) grievances as needed.

Hire, assign work, evaluate, and in all other ways supervise all Labor Relations Specialists. This includes development and approval of all policies directing the work of the Labor Relations Specialists.

Provide initial and ongoing orientation to new Labor Relations Specialists in addition to overseeing staff progress through the probationary period.

Conduct regular meetings of the labor relations staff.

Represent the labor relations program at key local, state and national meetings as requested and approved by the Executive Director.

Develop, implement and maintain a leadership development program with other departments as appropriate.

Participate in management meetings and functions.

Contract, direct, and evaluate services necessary to the functioning of the labor relations program, including legal counsel (internal or external).
SUPERVISION OVER
Labor Relations Specialists and other professional staff as assigned.
EDUCATION/CERTIFICATION/LICENSURE:
Minimum of five years' experience working for a labor union as a labor representative, business agent or UniServe consultant.

Bachelor's Degree preferred. Equivalent work experience will be considered.

Valid U.S. driver's license, reliable vehicle and auto insurance.
TRAVEL & WORK HOURS
Extended work hours and extensive travel throughout the Upper Midwest are required.
KNOWLEDGE, SKILLS AND ABILITIES REQUIRED:
Five (5) years or more of representational experience (either as a union representative, business agent or UniServe consultant) in the labor movement with 2 years of experience managing and supervising staff

Ability to develop, lead and support labor relations specialists (labor representatives) on the implementation of strategic campaigns

Prior work experience negotiating union contracts, contract enforcement and grievance procedure

Prepare and administer budgets;

Direct and evaluate the work of others;

Ability to plan, manage and organize multiple projects; identifying and analyzing problems/issues and recommending strategies and solutions;

Excellent writing and public presentation skills

Able to establish cooperative working relationships with persons contacted in the course of performing assigned duties.

Highly organized and able to manage multiple ongoing projects;

Must be able to work flexible hours including evenings and weekends;

Integrity, positive attitude, mission-driven, and self-directed.
SALARY:
Competitive salary depending on experience. Salary and benefits structure will be disclosed upon contact with MNA's recruiter.
CONTACT: Send your résumé and cover letter to Teresa Mazzitelli at: tm@mazzsearch.com.
Teresa Mazzitelli, President
The Mazzitelli Group
tm@mazzsearch.com
www.mazzsearch.com
WHEN APPLYING: Be sure to indicate that you saw this information at UNIONJOBS.COM.