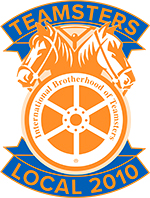 Teamsters Local 2010

Project Organizers
Based in Los Angeles and San Francisco, CA

Union Overview
Teamsters Local 2010 is pleased to announce the recruitment for Project Organizers to be filled as soon as possible.
These positions offer a unique opportunity to organize unrepresented administrative and skilled trades workers employed in higher education. The Teamsters Union is currently seeking to fill several positions to support active campaigns in Los Angeles and San Francisco. The positions will be responsible to represent the interests of Teamsters Local 2010, its officers, potential members and staff at all times with employers, state federations, area labor councils, affiliates and constituency groups and will report to the Secretary-Treasurer, or designee.
Project Organizer positions are limited term assignments and considered 'at will – exempt' in that they may supervise and train activists, have access to confidential information and have input to external Union operations.
Description of Duties
Work independently with little to no supervision developing and carry out campaign work plans to increase Union interest in an assigned worksite or region

Identify, contact, recruit and groom worksite leaders to become involved in union activities

Develop broad committees, representative of worksite leaders and work locations; visit job sites to communicate with workers; visit workers in their homes

Develop and distribute leaflets and other materials for organizing campaigns

Obtain, create, and maintain organizing lists in computerized database systems that may include worker names, work locations, contact information and hours of operation

Inform Secretary-Treasurer or designee of activities, developments and progress of organizing activity, including worker meetings on a weekly basis

Perform related work as required.
Minimum Requirements
Candidates who are interested in working for social justice as a Union organizer should apply; recent experience as a Union or community organizer is a plus.

Strong public speaking skills and experience communicating union messages a must

Excellent written and verbal communication skills

Must be able to multi-task and work well under pressure; prioritize and produce a quality work product within deadlines

Proficiency with Microsoft Office applications, especially Word, Excel, Outlook, and Access.

Ability to work long and irregular hours and sometimes on weekends

Ability to travel as needed, and for extended periods

Valid driver's license, auto insurance, and automobile for business use is required.
Compensation
Teamsters Local 2010 offers competitive salary commensurate with work experience. In addition, medical, dental, vision, and life insurance will be offered. An auto allowance will be provided.
Organizer/Representatives are considered 'at will – exempt' in that they may supervise and train activists and administrative staff; have access to confidential information; have input to management decisions for internal and external union operations; and exercise independent decision-making authority.
The Application Process
Interested parties should submit an application packet (in pdf format) including:
a cover letter and résumé covering your work history for the past 10 years

3 professional references (names and phone numbers)
to Melissa Munio at: mmunio@teamsters2010.org. Incomplete application packets will not be considered.
These positions will remain open until filled.
Successful candidates must submit to a background screening, and not have a disqualifying conviction as described in the Labor-Management Reporting and Disclosure Act (LMRDA).
WHEN APPLYING: Be sure to indicate that you saw this information at UNIONJOBS.COM.