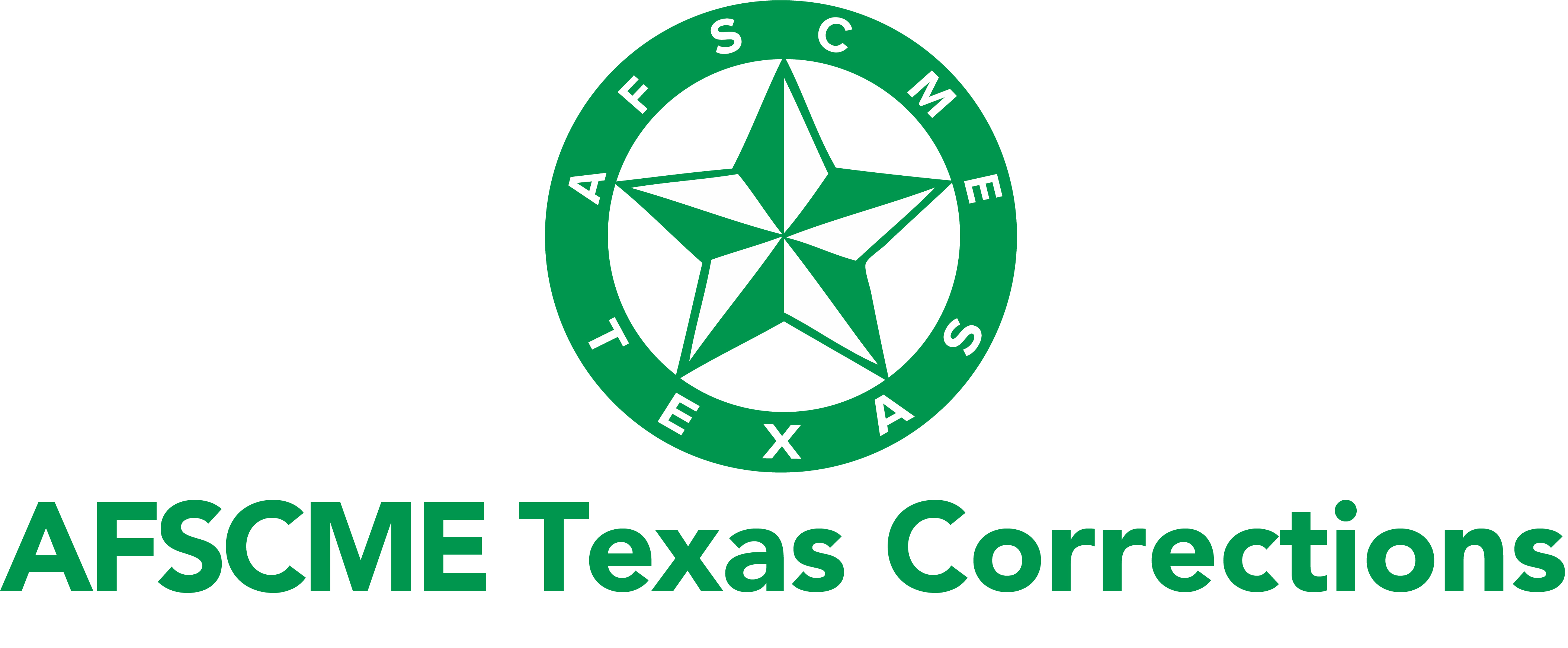 AFSCME Texas Corrections Organizing Council 7

Organizer / Representative
Texas Corrections Organizing Council 7
Covering South Texas region
(organizing in the field from San Antonio to McAllen)

The AFSCME TX Corrections Organizing Council 7, the largest union representing Texas Department of Criminal Justice (TDCJ) employees, is now accepting applications for an Organizer/Representative to be assigned to the South TX region (organizing in the field from San Antonio to McAllen).
The Organizer will have the responsibility of building local union capacity and empowering the current membership through internal organizing, as well as executing representational programs. The Organizer will be responsible, in addition, for carrying out the Council's vision of building strength by organizing new members.
Since collective bargaining is not legal for state employees, the Council builds power through local worksite actions and mobilizations around legislation.
The Organizer reports to the Executive Director or designee. This position is unionized with a competitive salary and excellent benefits.
Primary Responsibilities
Conducting one-on-one organizing conversations with potential new members through small group meetings and home visits.

Building union visibility through site visits—engaging employees on site and keeping workers focused on the union message and goals.

Developing and supporting execution of effective worksite actions as well as worker mobilizations for political organizing.

Meeting goals regarding new membership and leadership recruitment.

Recruiting and developing stewards and volunteer member organizers to lead the programs of the union including participating in house visits; planning and executing blitzes; assessing workers; representing members (in disciplinary meetings and grievances); and leading new employee and other orientations.

Supporting and developing local leaders and activists through assisting them in planning and executing local membership and organizing committee meetings as well as helping develop local strategic plans with clear benchmarks.

Keeping in good communication with local leaders to involve them in all Council planning and events and to seek the development of their ownership of the Council program.

Identifying local worksite issues and planning worker actions to address workplace problems—using organizing whenever possible to solve problems (rather than grieving).

Training member organizers and stewards in the field (as well as in the classroom).

Creating and working with others to develop and revise weekly strategic plans.

Working constructively with union staff and member leadership, coworkers, the union membership, and others.

Maintaining records in the organizing database (VAN); utilizing a variety of organizing reports printed from the database to assess progress.

Keeping detailed records and filing reports in a timely manner.
Skills Required
Proficient in the one-on-one organizing conversation and is able to train others.

Proficient in all phases of leader identification and development.

Proficient in developing organizing committees and supporting committee development, including drafting meeting agendas and teaching committee to develop agendas.

Proficient in conflict resolution and building high functioning teams that get results.

Proficient in creating organizing plans (from worksite actions to strategic plans).

Proficient in maintaining and updating lists and organizing charts.

Proficient in handling disciplinary meetings and grievances and can train and develop stewards to handle representation.

Proficient in developing persuasive written and graphic documents.

Supportive of the AFSCME mission and work attitude
Skill Desired
Proficient in both English and Spanish.
Physical Requirements (as required by the ADA)
Work is performed in a variety of employment settings including workers' homes, neighborhoods, and worksites. Driving, travel (including overnight stays), temporary assignments away from home, and extended work hours including weekends are required. Valid driver's license and insurance are required.
Education and Experience Required
High school diploma or equivalent with 3-5 years of relevant organizing and field rep experience.
To Apply:
Please email cover letter, résumé, and names of three references to union@afscmetexascorrections.org. Use Organizer 3890 as the Subject line. We will begin reviewing applications on May 21 and will continue to review applications until the position is filled.
AFSCME TX Corrections is proud to be an Affirmative Action/EEO Employer.
WHEN APPLYING: Be sure to indicate that you saw this information at UNIONJOBS.COM.