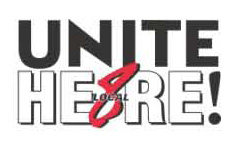 UNITE HERE Local 8

Organizer
Based in Seattle, WA

UNITE HERE Local 8 is seeking an Organizer to join our dedicated team. The Organizer will identify, recruit and develop worker leaders, build active worker organizing committees, work with local union team to win union representation and contract fights, and help build the movement of workers in the Seattle region.
UNITE HERE Local 8 represents over 5,000 hospitality workers in Oregon & Washington State. Local 8 members work in hotels, restaurants, food service, and airport concessions. They include room cleaners, cooks, bartenders, bellmen, food and beverage servers, bussers, and dishwashers. Local 8′s parent union, UNITE HERE, represents hotel, food service, and gaming workers throughout the US and Canada. For more information visit www.unitehere.org and https://www.facebook.com/Local8/. Through organizing and winning good contracts, UNITE HERE members throughout North America have made hundreds of thousands of traditionally low-wage jobs into good, family-sustaining, middle class jobs.
Responsibilities Include:
Identify and develop worker-leaders through one-on-one communication;

Build and maintain worker committees;

Organize and lead worker committee meetings;

Help to organize and run large actions such as picket lines and civil disobedience;

Communicate with hotel customers in the event of a worker-called boycott;

Perform administrative tasks necessary for worker organizing such as maintaining database, producing materials and correspondence.
Desired Qualifications:
Dedication to social and economic justice, and specifically to building a strong labor movement;

Education or experience with labor unions and/or community organizing;

Organizing experience, particularly in building unity within a diverse group, and inspiring others to be a part of using collective action to build power;

Willingness to persevere to be able to motivate people to move beyond anger and/or fear into action;

Demonstrated ability to use independent judgment within the context of an overall plan and structure;

Excellent communication skills in one-on-one and group settings;

Good organizational and administrative skills, including basic computer skills;

Willing and able to travel to appropriate work sites, and to work long and irregular work hours;

Valid driver's license and own car;

Strong language skills in a language other than English preferred; Spanish and Cantonese specifically needed.
TO APPLY
Please send your résumé, cover letter and three references to: Sarah@8.unitehere.org. Be sure to let us know why you are motivated to join this fight!
Position will remain open until filled.
This is a bargaining unit position with an affiliate of the Union of UNITE HERE Staff.
UNITE HERE is an equal opportunity employer and gives equal consideration to all applicants without regard to sex, age, race, color, religion, national origin, disability, veteran status, sexual orientation, gender identity or gender expression.
WHEN APPLYING: Be sure to indicate that you saw this information at UNIONJOBS.COM.