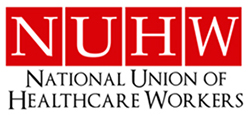 NUHW
National Union of Healthcare Workers

Training Coordinator
Based in Emeryville or Glendale, CA

The National Union of Healthcare Workers (NUHW) is searching for a talented, hard-working individual committed to building a powerful and democratic union. S/he/they will be values-driven, self-motivated and resourceful.
About NUHW
The National Union of Healthcare Workers is helping revitalize the labor movement with its commitment to worker empowerment and democratic ideals.
Founded in 2009, we have grown to represent more than 15,000 mental health clinicians, nurses, nursing assistants, medical technicians, clerks, and service workers. NUHW members are leading the fight to improve patient care, raise living standards, and hold healthcare corporations accountable to their employees and the communities they serve. NUHW is an independent, member-led union, dedicated to improving the lives of healthcare workers and the people we care for. We are building a national movement of caregivers to hold healthcare corporations accountable to the public interest and to win affordable, quality healthcare for all.
Job Summary
The Training Coordinator works with staff leadership to coordinate all training for NUHW. The Coordinator assesses, evaluates, and updates the training needs of NUHW. NUHW's training program curriculum includes, but is not limited to, new member training; new leadership training; leadership training; training for NUHW staff; healthcare issues training; and other topics as needs arise. The venues for delivering training take many forms, including steward councils, conferences, conventions and workshops. Working with and reporting to the NUHW President or designee, the Training Coordinator identifies training resources and opportunities for NUHW, e.g., the American Arbitration Institute, California Bar Association, CFIER, PERB, Labor Studies programs, and U.S. Occupational Health programs.
Duties and Responsibilities
Identifying statewide, local, and individual training needs

Organizing and advertising training programs

Developing and updating training curriculum and materials

Working to expand CEU program for our RN and other professional members

Reviewing and evaluating training programs and materials available from outside sources

Evaluating the need for training in identified areas, e.g., grievances, organizing, arbitration, negotiations, and budget analysis and working with staff leadership to develop curriculum or identify training providers

Developing and implementing a train-the-trainer program

Preparing reports for the NUHW Executive Board on NUHW's training programs

Identifying a cadre of staff, leaders, members and outside sources to deliver NUHW's training program
Knowledge, Skills, and Abilities
Knowledge of multiple training methodologies including popular education and other adult learning theory and application

Knowledge of training assessment and development techniques

Knowledge of training resources and providers from both the public and private sectors

Ability to design curriculum and training materials

Ability to research training-related questions

Ability to train and coach potential trainers

Ability to work rapidly and accurately in a high-pressure environment

Ability to strategize, organize, set priorities, and meet deadlines

Knowledge of CEU requirements and ability to work with professionals to develop CEU programs for RNs, psychologists and mental health clinicians

Ability to make decisions, take charge, direct, develop, and coordinate activities

Ability to work independently with a minimum of supervision

Ability to make public presentations to audiences in a variety of venues
Preferred Experience
3 years of experience as union staff or in a rank and file leadership position

2 years of experience developing curriculum and teaching or training adults

2 years of experience leading a team or directing staff

Proven commitment to worker empowerment, social justice and environmental justice
Requirements
Fluency in Spanish and English highly desirable

Capacity to establish and cultivate relationships with people from diverse backgrounds

Proficiency in computer applications including email, Word, Excel, Access, PowerPoint and use of the Internet

Willingness to work long hours, including evenings and weekends

Must have a car, driver's license and insurance; cell phone with email capability
Compensation
Salary $102,428 plus $6,000 auto allowance; employer paid medical and dental benefits for employee and family; FSA and HRA plans; life insurance for employee; holidays, sick leave, vacation; 401(k) with 14% employer contribution.
How to Apply
Email your résumé, cover letter, and references to: jobs@nuhw.org.
Put your beliefs and skills into action. Apply today and be part of making history!
NUHW is committed to staff diversity.
We welcome qualified people of all backgrounds to apply.
WHEN APPLYING: Be sure to indicate that you saw this information at UNIONJOBS.COM.