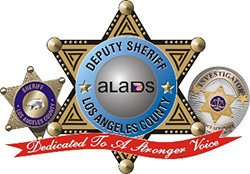 Association for Los Angeles Deputy Sheriffs

Labor Representative
Based in Los Angeles County, CA

The Association for Los Angeles Deputy Sheriffs (ALADS) is seeking to fill the position of Labor Representative.
Salary: $5,599 – $6,940 Monthly
ALADS offers excellent pay and fringe benefits, including medical, dental, vision, life insurance, flexible spending accounts, and a retirement plan.
The Labor Representative performs a wide variety of administrative staff work requiring specialized knowledge of the Association and employee relations and includes frequent, confidential member and public communication.
Examples of Responsibilities:
Assists members in their employment relationship with the County of Los Angeles

Assists members in preparing and processing grievances

Represents members in administrative hearings

Makes recommendations for the resolution of problems and work procedure

Contributes to the publication of the ALADS Dispatcher and other publications

Assists in the development and training of the Unit Representative Corps

Prepares reports, studies, and correspondence

Conducts work site visitations

Represents ALADS at various meetings as required
Desirable Employment Standards:
Graduation from an accredited college or university with a Bachelor's degree in public administration, business administration or closely related discipline and at least one (1) year of full-time experience in a related professional capacity.
Knowledge of public sector unionism, California labor laws, organizing methods, administrative hearings, collective bargaining, dispute resolution, employee relations, modern office practices and procedures, current personnel practices, and principles of communication.
Ability to perform a wide variety of highly responsible duties, use advanced English skills, including spelling, grammar, sentence structure, and original composition; prepare accurate reports; exercise independent judgment on matters where the consequence of error is moderate; establish and maintain effective relations with staff, clients, and the general public; and work under pressure accomplishing the duties and responsibilities of the position.
Must have a valid driver's license, proof of car insurance, a dependable vehicle available to work each business day, and be willing to travel extensively throughout Los Angeles County on a regular basis, along with a willingness to work a flexible schedule, possibly beyond forty (40) hours per week.
To Apply
If you meet these requirements and are interested in the position, please send your résumé and cover letter, mentioning this posting from unionjobs.com, to: careers@alads.org. Include "Labor Rep" and your full name in the subject line.
WHEN APPLYING: Be sure to indicate that you saw this information at UNIONJOBS.COM.