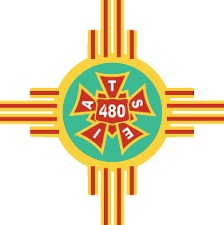 IATSE Local 480
The Film Technicians Union of New Mexico

Business Agent
Based in Santa Fe, NM

IATSE Local 480 – the Film Technicians Union of New Mexico, is looking for a qualified Business Agent.
Salary: Competitive salary based on industry standards / 3 year contract
Responsibilities:
Contracts

Seek and secure business contracts for IATSE Local 480

Guide producers through correct labor-hiring practices and contract particulars

Ensure production managers/producers are adhering to the contracts/labor hiring standards

Organize productions in jurisdiction that are not in compliance with trade unionism standards
Membership / Office
Attend all relevant events and functions and make reports to the Board and membership

Attend Executive Board and General Membership meetings of the Local and other special meetings/committee meetings as required

Attend all meetings and negotiations set forth by the International office

Serve as the General Manager of the Local 480 office and oversee day-to-day operations

Maintain a working knowledge of and conform to all standing rules and the IATSE Local 480 Constitution & Bylaws and International Constitution & Bylaws

Help facilitate public/political relations for IATSE Local 480 and attend related events

Ensure members are in good standing and serve as a representative on behalf of member affairs

Advance principles of trade unionism

Work with the Secretary Treasurer to ensure that fiscal policies benefit IATSE Local 480 and its members
Remuneration and Required Skills
This is an on-call 24/7 style job. Expectations are the candidate will be working 5-6 day weeks (sometimes 7th day under production pressure) dealing with the unique particulars of entertainment industry needs and expectations

Office hours shall be no less than 9-5 pm, Monday through Friday. On call otherwise

Must possess a working knowledge of collective bargaining in the entertainment industry

Public relations experience is very important

Must be comfortable driving; job requires frequent state-wide travel

Must be able to work in consistent high-altitude conditions (4,500 ft. to 7,000 ft avg.)

A background check will be performed prior to hiring

A writing sample original to this application will be requested

Hire shall be under a 90-day probation period. Housing allowance provided for probationary period

Hire will be offered a three-year contract with annual review by Local 480 Executive Board

Benefits, including comprehensive health package, pension & annuity, and PTO provided

Other benefits, including but not limited to monthly expense stipend, business cell phone, business provided vehicle, and relocation expenses are included
To Apply
Interested applicants, please send résumés or CVs and cover letter to: baapplicant@iatselocal480.com.
WHEN APPLYING: Be sure to indicate that you saw this information at UNIONJOBS.COM.