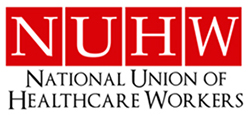 NUHW
National Union of Healthcare Workers

Political and Community Organizer
Northern California
Based out of our Emeryville, CA (SF Bay Area) office

The National Union of Healthcare Workers (NUHW) is searching for a talented, hard-working individual committed to building a powerful and democratic union. The successful candidate for this position will be values-driven, self-motivated and resourceful, with the skills, experience, and enthusiasm to help lead the Union's legislative, electoral, and community relations activities in multiple locations throughout California. The position works out of our Emeryville (SF Bay Area) office.
About NUHW
The National Union of Healthcare Workers is helping revitalize the labor movement with its commitment to worker empowerment and democratic ideals.
Founded in 2009, we have grown to represent more than 15,000 mental health clinicians, nurses, nursing assistants, medical technicians, clerks, and service workers. NUHW members are leading the fight to improve patient care, raise living standards, and hold healthcare corporations accountable to their employees and the communities they serve. NUHW is an independent, member-led union, dedicated to improving the lives of healthcare workers and the people we care for. We are building a national movement of caregivers to hold healthcare corporations accountable to the public interest and to win affordable, quality healthcare for all.
Duties
The Political and Community Organizer's responsibilities include but are not limited to:
Acts as the primary day-to-day contact between the Union and municipal, county, state, and federal elected officials and staff.

Acts as the primary day-to-day contact between the Union and relevant staff leaders of other unions and allied groups to coordinate the Union's involvement in legislative and electoral coalitions.

Organizes the electoral and grassroots lobbying work of other staff and rank-and-file leaders, providing educational materials, training as necessary, and logistical support.

Monitors political and public policy developments and develops options for action.

Participates in ongoing community coalitions around healthcare, workers' rights, and other matters of institutional interest to the Union.

Helps develop political strategies in support of the Union's organizing and bargaining efforts and builds ad-hoc coalitions and other community actions to support them.

Works with organizers and rank-and-file leaders to conduct endorsement interviews and make advisory recommendations to the Union's Executive Board.

Supports organizers and rank-and-file leaders in meeting the political fundraising goals of the Union's Committee on Political Education (COPE).
Qualifications
Excellent written and oral communication skills.

Ability to relate successfully to individuals of all races, nationalities, religions, genders, sexual orientations, income levels, educational backgrounds, and occupational groups.

Three years or more successful prior experience in grassroots lobbying, electoral field work, community coalition building, or work as a legislative lobbyist or staff person.

Demonstrated ability to work long hours, independently, under stress and tight timelines.

Prior union organizing experience and a basic knowledge of healthcare policy and public finance are preferred, but not required.

Fluency in Spanish as well as English is preferred, but not required.

Proficiency in MS Office applications and use of the Internet.
Must have a car, driver's license and insurance; cell phone with email capability.
For more information about NUHW, go to our website at www.NUHW.org.
Compensation: Salary $54,000-94,000 plus $6,000 auto allowance, employer paid medical and dental benefits for employee and family; FSA and HRA plans; life insurance for employee; holidays, sick leave, vacation; 401(k) with 14% employer contribution.
How to Apply:
Email your résumé, cover letter, and references to: jobs@nuhw.org.
Put your beliefs and skills into action. Apply today and be part of making history!
NUHW is committed to staff diversity.
We welcome qualified people of all backgrounds to apply.
WHEN APPLYING: Be sure to indicate that you saw this information at UNIONJOBS.COM.