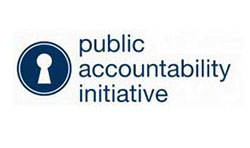 Research Analyst
(Puerto Rico)
Location is Flexible; Puerto Rico or New York City strongly preferred

The Public Accountability Initiative (PAI, also known as LittleSis) is a nonprofit watchdog research group that investigates power and corruption at the intersection of business and government. We publish high-impact research on corporate power; collaborate with journalists, activists, and academic researchers who are investigating and challenging powerful individuals and corporations; and build and maintain our flagship research site, LittleSis.org (the opposite of "Big Brother"), a wiki database that tracks information on powerful people and organizations.
We are seeking a research analyst who will conduct strategic research on corporate power in Puerto Rico, with a major focus on hedge funds and other Wall Street firms that are speculating on Puerto Rican debt and the privatization of public assets. This research will be done in close collaboration with and support of the Hedge Clippers campaign (hedgeclippers.org), a transparency and accountability campaign that challenges the extractive practices of hedge funds and other Wall Street firms. Hedge Clippers and PAI/LittleSis have been at the forefront of work to expose and challenge the role Wall Street profiteers are playing in Puerto. Some examples of our work:
Hedge Fund Vultures in Puerto Rico
Hurricane Harvard
How Seth Klarman, One of Puerto Rico's Biggest Debt Vultures, Was Exposed
Primary responsibilities for this position include:
Conduct strategic research on hedge funds and other Wall Street firms speculating on Puerto Rican debt and the privatization of public assets

Work closely with organizers at Hedge Clippers and allies to develop research plans and strategy

Write reports, memos, and other materials communicating research findings to a variety of audiences, including activists and journalists

Compile and update data sets for use by journalists, policy advocates, and organizers

Monitor ongoing developments in Puerto Rican debt crisis in a variety of channels (Puerto Rican press, English language press, social media, etc)

Conceive, plan, and execute strategic research projects that lay the groundwork for and support high-impact journalism and campaigning
Qualifications include:
3-5 years of experience doing strategic research for unions or grassroots organizations

Excellent research, writing, and communication skills

Fluency in Spanish and English

Proficiency in internet-based research, word processing, and spreadsheet/database programs

Demonstrated ability to work well with organizers and journalists

Strong commitment to and passion for social change in Puerto Rico and deep familiarity with political and economic pressures on the island

Ability to work independently and to manage multiple competing priorities, tasks, and deadlines

Strong critical thinking skills

Baseline knowledge of Wall Street, municipal finance, and Puerto Rican debt crisis strongly preferred

Ability to travel, as required
Location is flexible, though Puerto Rico or New York City are strongly preferred.
Women, people of color, LGBTQ individuals, and people with disabilities are encouraged to apply.
Salary is commensurate with experience and will be in the $45,000-$50,000/year range.
To apply
Please submit your résumé and cover letter to jobs@littlesis.org
WHEN APPLYING: Be sure to indicate that you saw this information at UNIONJOBS.COM.