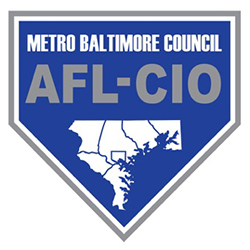 Metropolitan Baltimore Council, AFL-CIO

AFL-CIO Community Services Director/Organizer
Based in Baltimore, MD

OBJECTIVE:
Identify, train, and mobilize community and union members to create long-term improvements in their neighborhoods, jobs, and lives through collective direct action, and voter education and mobilization. As Community Services Director individual is responsible for administration, management, fundraising, counseling and leadership development of Community Services programming.
ESSENTIAL RESPONSIBILITIES:
One-on-One grassroots outreach in the field

Engage broad community and key ally support

Identify local campaign priorities and play a lead role in performing power analysis, developing campaign strategy, and ensuring maximum opportunity for member leadership development throughout the campaign.

Support campaign strategy development and implementation for state and national campaigns

Engage broad community and key ally support

Organize and maintain local committees and hold regular meetings.

Ensure active involvement of members in state and national campaigns through regular mobilization and other means.

Coordinate and track outreach and leadership development activities for AFL-CIO members, including leadership trainings

Facilitate organizational meetings, events, and training participation.

Build power through voter registration and education campaigns, ally development, and participation in coalitions or networks as assigned.

Performing database entry and writing timely, regular reports.

Support the development and expansion of the Organization.

Understand and promote AFL-CIO membership and services

Other duties assigned by supervisor related to position

provide overall direction to agency based on analysis of local unions' needs

interpret policies of social service agencies and programs to determine impact on labor community and respond appropriately

create and monitor budget for federally funded programs

submit monthly, quarterly, and final fiscal and programmatic reports to funding sources

initiate process to identify potential new programs and funding sources

Perform other job-related duties as assigned
EDUCATION/CERTIFICATIONS:
Minimum 5 years of related experience

Bachelor's Degree, required
REQUIRED QUALIFICATIONS:
Valid Driver's License issued in the United States

Valid Automobile Insurance

Reliable Vehicle
KNOWLEDGE, SKILLS, AND ABILITIES:
Knowledge of Unions

A demonstrated commitment to workers' rights and progressive issues

A track record of developing and maintaining strong working relationships with and among a diverse group of stakeholders

Electoral experience, preferred

Progressive, forward thinker.

Ability to work "outside of the box"

A history of getting things done even in the face of obstacles.

Proven ability to manage multiple projects and priorities

Mission-oriented, Results driven, team player, passionate, and highly motivated, required

Communicate clearly, write well, speak eloquently, and are able to explain just about anything to anyone in person, on the phone, or in writing.

Motivated and self-driven. Volunteer for new challenges without waiting to be asked.
To Apply
Interested applicants should send cover letter and résumé with AFL-CIO Community Services Director/Organizer in the subject line to: jjones@mbaflcio.org.
WHEN APPLYING: Be sure to indicate that you saw this information at UNIONJOBS.COM.