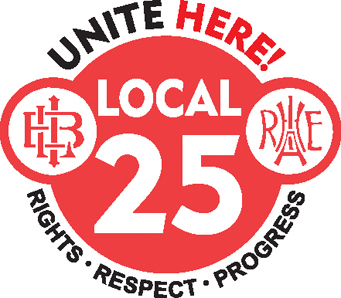 Organizer-in-Training
Washington, DC

UNITE HERE Local 25 is currently seeking applications for the position of Organizer-in-Training. We represent over 7,200 hotel and casino workers in the Washington, D.C. metropolitan area.
We are in the process of building a rank-and-file leadership structure. The purpose of this structure is to increase the participation of the membership in the union and to enhance the union's ability to mobilize our members for large-scale action in order to organize non-union workers, fight for higher wages and better benefits, and increase the rights of hotel workers in D.C.
Areas of responsibility
This is a supervisory position. Internal Organizers may be assigned to work on short- or long-term projects and be given areas of responsibility that include, but are not limited to:
Internal and External Organizing ● Contract Enforcement ● Member Mobilization Political Action ● Operations ● Supervision
Grassroots organizing
Our internal organizing structure will allow Local 25's membership to communicate quickly and effectively with the union's leadership, and provide an excellent vehicle for mobilizing the membership for action and encouraging member participation in the union.
Internal Organizers are responsible for recruiting, training and supervising rank-and-file leaders, and for continuing to improve the effectiveness of the internal organizing system.
Training and Advancement
This is an entry-level position with strong prospects for advancement. All newly hired organizers will spend several months training with experienced organizers in New York City.
Resourceful and committed staff members who become familiar with the union's operations and distinguish themselves will have numerous opportunities for rewarding and interesting work.
Qualifications required
Demonstrated commitment to social justice

Ability to motivate and inspire others

Ability to communicate respectfully and comfortably with people from diverse backgrounds

Ability to learn quickly and grow into positions of greater responsibility

Resourcefulness and talent for problem-solving

Ability to multitask, work efficiently, and be well organized

Integrity, persistence and determination

Good judgment

Candidates who are bilingual in Spanish and English are strongly preferred, though not required. Candidates with language skills in Vietnamese or Amharic will also be given extra consideration.
Extra consideration will be given to candidates who possess any of the following:
Bachelor's degree

Ability to write persuasively, clearly, and concisely

Ability to learn new computer applications quickly

Experience working in the hotel, restaurant, hospitality, or other service industries
Salary and benefits
Annual salary will start at $40,000

Excellent benefits and retirement package.
Application instructions
Applicants must include a resume and cover letter. The cover letter should be clear and concise and explain which position you are applying for, the specific reasons for your interest in the position, and specify with appropriate explanation which of each of the listed qualifications you possess, and which ones you do not possess.
The cover letter, résumé, references and additional materials should be emailed to: careers@dchotelworkers.org.
UNITE HERE Local 25 is an equal opportunity employer. All persons regardless of age, race, ethnicity, gender expression, religious affiliation or sexual orientation are encouraged to apply. AmeriCorps and other national service alumni are encouraged to apply. People of color and women are strongly urged to apply.
WHEN APPLYING: Be sure to indicate that you saw this information at UNIONJOBS.COM.