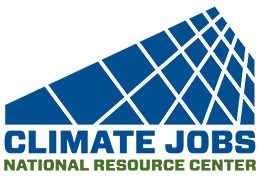 CJNRC
Climate Jobs National Resource Center

Policy Analyst
This is a REMOTE position
(CJNRC is based in New York)
Climate Jobs National Resource Center ("CJNRC") is organizing state and local coalitions of unions to combat climate change and reduce income inequality. CJNRC advocates for large-scale investments that will expand renewable energy production, create good union jobs and support economic growth in disadvantaged communities. CJNRC is working in a growing number of states to support coalitions of local unions that are working in their states and cities to support new investments in renewable energy and new public policies that support equitable climate change action. At the same time, CJNRC will have a focus on the federal policies that could support local action. Together with its local coalitions, CJNRC will call on the new Administration in Washington to support these goals and will offer concrete ideas on how to achieve them.
To support this work, CJNRC will hire a Policy Analyst with economic and policy knowledge of the renewable energy industry, economic development, and labor unions. The analyst will help CJNRC provide the policy and technical support needed by the state Climate Jobs coalitions and contribute to our federal agenda. The policy analyst will work under the direction of the Senior Policy Advisor to CJNRC and collaborate with other staff members at CJNRC and the local coalitions.
Key Responsibilities:
Work with CJNRC staff and state coalitions to develop and implement state plans for increased renewable energy investment;
Analyze the impact of existing state and federal energy policies on the growth of investment in renewable energy, good job creation, and equitable distribution of the investments and jobs;
Research new developments in key sectors of the energy industry, including: wind power, solar power; energy storage, electric vehicles, and energy finance;
Contribute to assessment of the utility sector, both investor-owned and publicly owned (coops, municipal owned, etc) and their potential contribution to the agenda of CJNRC; and,
Support financial analysis of proposed policies and projects
Qualifications:
A strong commitment to progressive social change, racial justice, a familiarity with the issues that are central to CJNRC's work and vision;
Good understanding of federal and state climate change policy, and related energy policy;
Able to undertake corporate research, financial analysis, including project finance, and state and federal policy analysis;
Strong critical thinking skills, quantitative analysis;
Must be able to write clearly and quickly, with an ability to explain technical information to a lay audience;
Demonstrated ability to work independently;
Willingness to travel when it is safe to do so;
Willingness to work remotely; and
Effective time management skills, including prioritizing and managing multiple tasks, with light supervision.
LGBTQ, women and people of color strongly encouraged to apply. CJNRC offers a competitive salary and an excellent benefits package that includes employer-paid medical and dental plans for full-time staff and their qualified dependents.
To apply: Please send a résumé and cover sheet to: info@cjnrc.org
WHEN APPLYING: Be sure to indicate that you saw this information at UNIONJOBS.COM.