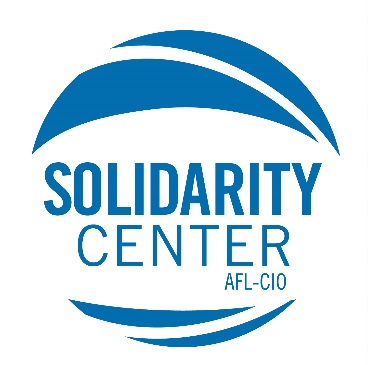 Solidarity Center

Program Officer 1
Europe and Central Asia Department
Based in Washington, DC

The Solidarity Center
The Solidarity Center, founded in 1997 by the AFL-CIO to tackle the enormous challenges workers face in the global economy, now works with union and community group partners in more than 60 countries through a network of 26 field offices. This not-for-profit organization offers education, training, research, legal support, and organizing assistance to help build strong and effective trade unions and other workers' organizations and more just and equitable societies. Its programs promote democratic rights and respect for workers, raise public awareness about abuses of the world's most vulnerable workers, and, above all, help the world's workers secure a voice in their societies and the global economy.
The Center seeks a Program Officer I for its Europe and Central Asia department. The Program Officer reports directly to the Center's director for the Europe and Central Asia department. The Washington, D.C.-based Center has a staff of 225 and an annual budget of $30 million.
This position is exempt and is based in Washington, DC.
Personal Qualities:
The successful candidate will bring a strong social justice orientation and a passion for worker rights. He or she will have good judgment in U.S. and international political environments and the confidence, tenacity, energy, patience, and drive to work with others in this multilayered international organization to advance the cause of workers around the world.
Summary of Position: The Program Officer I is responsible for day-to-day contact with and support to field offices and programs. S/he is conversant with all aspects of regional program activities and current events relevant to the on-going political, economic, social and trade union developments in the region. S/he is the main contact between the Washington office and the field.
The Program Officer I writes persuasive proposals, describes complex activities and develops budgets for those activities. S/he participates in the development and implementation of education, training and other programs. S/he has the writing skills necessary to produce program reports and evaluations. S/he tracks program budgets and activities. S/he prepares and exchanges information and coordinates activities with other sections of the Center, as required.
The Program Officer I assists the Regional Program Director or the Senior Program Officer on details of programs in assigned country(ies) of responsibility. At the direction of the Regional Program Director and based on the needs of the Center, the Program Officer may be assigned to any program office on a temporary basis. S/he assists with and, when necessary, provides logistical support for international visitors and participants in Washington-based programs conducted by the Solidarity Center, AFL-CIO, affiliates, GUFs and/or other related organizations. S/he attends meetings and conferences at the request of the Regional Program Director or Senior Program Officer. S/he travels to the region when necessary, and, is able, on a temporary basis, to provide back-up support for field representatives.
Basic Qualifications: A Program Officer I must have some knowledge of international relations including trade union and socio-economic and political developments in the U.S. and abroad. Previous trade union experience is highly desirable. S/he must be able to work independently and complete assignments with limited supervision. S/he must be capable of managing multiple assignments simultaneously. S/he must have, at a minimum, a bachelor's degree in political science, international relations, labor relations or a related field and/or five years of related work experience. Good communications and writing skills are a must. Computer literacy for word processing and simple spreadsheets is required. A Program Officer I must have the ability to work and interact easily with a wide variety of people. Persons considered for this position must agree to serve in a field position abroad, on a temporary basis, based on the needs of the Center. Fluency in a foreign language is a plus and may be a requirement for some Program Officer positions.
Supervisor: Regional Program Director for Europe and Central Asia
Please note the following additional requirements:
Excellent English communications and writing skills;

Knowledge of the U.S. labor movement and worker rights;

Ability to assist with designing programs, writing proposals and budgets, and delivering oral presentations that explain Solidarity Center goals and accomplishments;

Excellent skills with word processing and financial spreadsheets;

Ability to travel to the region frequently;

Experience handling multiple tasks related to program development and implementation, with attention to detail;

Ability to work within a team framework under tight deadlines and multi-departmental coordination.
Desirable Qualifications:
Previous trade union experience;

Experience facilitating training for adult participants, especially on worker organization topics such as strategic planning, inclusion and equality, labor migration and trafficking, rule of law, media skills, organizing, collective bargaining, union administration, and dispute resolution;

Previous experience working on international development projects, including tracking program budgets and expenses, reviewing financial reports and receipts, preparing and editing periodic narrative program reports;

Knowledge and previous experience with monitoring, evaluation, and learning (MEL) systems.

Prior experience with financial wire payment systems, including tracking and troubleshooting where needed.

Ability to speak, write, and/or translate any of the following languages is preferred: Russian, Ukrainian, Georgian, Serbian, Bosniak, Montenegrin, Albanian, Kyrgyz, Uzbek, or Kazakh.
The duration of this position as with all positions at the Solidarity Center is contingent upon continued grant funding.
The Solidarity Center is an equal employment opportunity employer that does not discriminate against any person employed or seeking employment based on race, color, religion, sex, sexual orientation, gender identity, national or ethnic origin, age, marital status, disability, veteran status or any other status protected under applicable law.
Apply HERE!
WHEN APPLYING: Be sure to indicate that you saw this information at UNIONJOBS.COM.