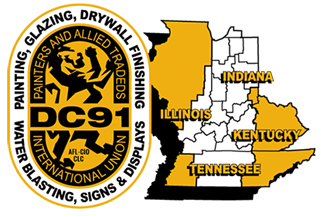 International Union of Painters and Allied Trades, District Council 91

Full-Time Organizer
Based in Nashville, TN

About the IUPAT
The International Union of Painters and Allied Trades (IUPAT) represents a growing force of men and women in the United States and Canada who work in the Finishing Trades – Industrial & Commercial Painting, Drywall Finishing, Glazing & Glass Work, Sign & Display and Floor Covering Installation, and many more successful careers in the construction industry and public sector. The IUPAT is committed to representing, building power with and fighting alongside all workers in our industry; union-and non-union alike.
IUPAT District Council 91 consists of twelve Local Unions covering the entire state of Indiana, the western half of Kentucky and the middle third of Tennessee, with some territory in southeastern Illinois.
About the Campaign in Nashville, TN
Nashville is a unique area with explosive growth. Approximately 100 new people move to Nashville every day. The areas in and around downtown are quickly becoming gentrified, with locals in previously affordable housing pushed out by huge rent increases or outright demolition of their neighborhoods to make room for new development. Private and public development are taking place, from hospitality, commercial office space, to retail and residential. Amidst all this growth, there is systemic worker exploitation issues and our union has a very low density in the market.
The goal of our organizing efforts in the city are to set the floor for construction workers protections; especially those in our trades in order to optimize the growth of IUPAT DC 91 Local 456 membership and power. We strive to achieve this by implementing a multifaceted strategy including: industry organizing, job training, base building, community-labor partnerships, advocacy and political campaigns.
Organizer Responsibilities
Identify and develop a broad, representative organizing worker committee of worksite leaders and help train organizing committee members to move worksite organizing campaigns and community-labor campaigns;

Map out construction projects, the contractors that are performing work, related subcontractors, labor brokers, and all other involved parties;

Regularly canvass construction sites to talk to workers, gather contact information and identify workplace issues;

Regularly engages contractors, engineers, architects and end-users about in order to strengthen the IUPAT's presence in the market and maintain labor standards;

Builds strategic relationships with potential allies among labor, religious, ethnic, immigrant, and other appropriate community organizations and leaders;

Assists other IUPAT staff in mobilizing for union actions including community actions, phone-banking, leafleting, online outreach, site visits, home visits, etc.;

Assist in organizing and coordinating large actions such as pickets, rallies, marches, and strikes;

Perform administrative tasks necessary for organizing (such as maintaining databases, producing materials and correspondence);

Any other duties/tasks as assigned as needed by the Director of Organizing related to campaigns, community functions, or operations of the Council.
Skills and Qualifications
Be based or willing to move to Nashville, TN for a full-time position with IUPAT DC91 to be part of the Nashville organizing campaign;

A demonstrated commitment to union organizing, social justice, anti-oppression, or social movement unionism;

Preference for individuals with an understanding of and prior experience in the construction industry;

Strong preference for individuals with previous organizing experience in labor, community, student, and/or social movement organizations or campaigns;

Strong coalition-building and facilitation skills across a diverse set of organizations and constituents;

Experience organizing workplace and community actions with broad participation;

Experience building strong internal union organizing through base building and membership leadership development;

Experience with organizing construction workers, Black, immigrant workers, and/or workers of color;

Strong preference for someone that is bilingual and biliterate in English and Spanish languages;

An ability to manage multiple tasks and projects simultaneously and meet established deadlines;

Strong written and verbal communication skills;

Willingness to work some weeknights and weekends;

Willingness to respond promptly to e-mails, phone calls, and other forms of communication;

Valid driver's license required.
Salary and Benefits
Salary is competitive and commensurate with level of experience. Health, dental, and vision coverage provided, paid personal time off as well as sick time.
Instructions for Applying
Interested applicants should submit a one-page cover letter, résumé and 2-3 references, with the subject line "[Your Name] Full-Time Nashville Organizer Application" to: rkekeris@iupat.org.
WHEN APPLYING: Be sure to indicate that you saw this information at UNIONJOBS.COM.