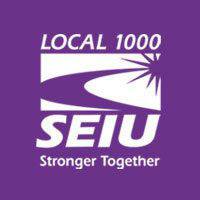 SEIU Local 1000

Organizer/Union Representative
Based in Sacramento, CA

SEIU Local 1000 is the largest labor union in California, representing 95,000 state employees in nine bargaining units. We are recruiting for an Organizer/Union Representative for our Union Resource Center in Sacramento. We want to talk to you if you have a passion for helping others and addressing inequality in the workplace.
Duties:
Represent State Employees at assigned worksites including disciplinary meetings and investigations.

File grievances and appeals including review of facts, document preparation and case management.

Coordinate campaigns in support of contract campaigns, meet and confers and the resolution of other worksite issues.

Investigate workplace issues and advocate for employee rights.

Mentor stewards on representation matters and contract interpretation.

Work with worksite stewards and leaders to represent members through the grievance and arbitration system, as well as mobilizing members to take action around issues in the worksite.

Manage working relationships with staff, member leaders, and stewards in a team environment.

Build a network of member leaders and stewards to support employee representation.

Identify, recruit, train and develop worksite leaders and stewards.

Lead, motivate and mobilize worksite leaders, stewards and members in internal and external organizing, politics, community alliance building and other union activities.

Develop and maintain effective communication networks in worksites.

Manage cases within required deadlines and maintain ongoing case files.

Manage phone contacts timely including documentation in database.

Prepare forms, documents and letters in a timely, accurate manner.

Create and maintain lists and track information, which may include input on, and operation of, computerized database systems.

Travel to worksites as directed.

Other duties as assigned.
Eligibility

Education:
B.A. or A.A. degree is a plus, but not required.
Experience:
Customer service experience is preferred.

Work with a diverse group of people, with varying skill levels and socio-economic backgrounds.
Other:
Effective written and verbal communication skills.

Strong team player is required.

Strong organizational skills are required.

Active listening and problem solving skills are required.

Ability to work flexible schedule with some travel.

Valid driver's license, car and insurance.
How to Apply:
CLICK BELOW to submit your information including a cover letter and résumé.
http://www.seiu1000.org/employment-opportunities
SEIU is committed to building a diverse workforce. We offer excellent benefits, including paid health benefits for employee and family, liberal paid time off and competitive salary. All applicants must be able to furnish proof of authorization to work in the United States.