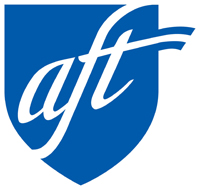 American Federation of Teachers

AFT Project Staff Organizer
Covering Connecticut

AFT (American Federation of Teachers) is a powerful union of over 1.7 million members.
AFT CT is a state affiliate of the AFT, with over 90 local unions representing close to 31,000 workers in Pre-K-12 and higher education, health care, and state services.
AFT and AFT CT are seeking a dedicated individual to serve as our newest Project Staff Organizer. Ideal candidates are those who feel passionately about helping working people build power in their worksites and in their communities.
This position reports directly to the State Federation's Director of Organizing and to a designee of the National union.
Duties and responsibilities include, but are not limited to:
Identify and develop new organizing targets and respond efficiently to organizing leads

Identify and incorporate relevant worker issues in all campaigns

Conduct strategic research on organizing targets

Plan for, write, and carry-out comprehensive organizing plans

Conduct one-on-one and small group meetings with workers

House calling and phone banking

Write and incorporate strategic communications materials

Recruit workers to join organizing committees and other bodies

Train member organizers, committee members, and work-site leaders on every relevant aspect of external and internal organizing, as well as community engagement

Assist locals and local leaders as needed in the development of work-site leadership structures

Assist with issue-based organizing campaigns, as well as contract campaigns, political mobilizations, and community engagement plans

Organize large-scale rallies, work-place actions, and community forums

Organize and run effective meetings

Turn out workers to all types of union events

Respond quickly and effectively to other needs, as directed
Qualifications and Experience:
Organizing experience strongly preferred, including experience with both public and private sector organizing

Excellent interpersonal skills

Excellent communications skills

Ability to handle stress and conflict effectively

Ability to present effectively to groups

Ability to analyze and synthesize complicated information

Ability to work independently while also incorporating feedback

Ability to work well within multiple collaborative/team structures

Ability to prioritize activities while advancing the needs of campaigns

Ability to inspire confidence and ownership from workers in all campaigns

Ability and willingness to work long and irregular hours, including evenings and weekends

Ability and willingness to drive long distances

Ability to speak a second language (especially Spanish) preferred

Diverse experiences preferred

Private sector health care organizing experience preferred

Community and political organizing experience a plus
Salary and Benefits: Per Agreement between NEROP Staff Union and the Northeast Region of the AFT, including competitive salary, health insurance, retirement, and other fringe benefits.
Tools: The Organizer is required to have a valid driver's license, legally required registration, automobile insurance, and a working automobile.
How to Apply: Please submit your cover letter and résumé to: eborlaug@aftct.org.
Equal Opportunity Employer
WHEN APPLYING: Be sure to indicate that you saw this information at UNIONJOBS.COM.