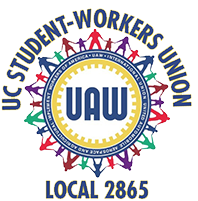 UAW Local 2865
UC Student-Workers Union

Field Organizers
California

Location: Applicants must be based near a UC campus (preferably San Diego or Davis) or be willing to relocate.
Deadline: Submit applications to: jobsuaw2865@gmail.com. We will begin reviewing applications on May 27.
UAW Local 2865 is a dynamic, member-driven labor union representing over 18,000 Academic Student Employees (ASEs)—Teaching Assistants, Readers, Graders, Tutors, and others—at the nine teaching campuses of the University of California.
UAW 2865 is currently hiring full-time Field Organizers to organize academic workers across the UC system, including: UC-Berkeley, UC-Davis, UCLA, UC-Irvine, UC-San Diego, UC-Merced, UC-Riverside, UC-Santa Cruz, and UC-Santa Barbara. These positions will be directly responsible for internal and external organizing activities, including membership recruitment, leadership identification and development, and increasing member participation in statewide campaigns. We are prioritizing candidates living close to or willing to move to San Diego or Davis.
Candidates who are working class, women, people of color, queer, and/or trans are strongly encouraged to apply.
Organizer Responsibilities:
Identify and develop new worker leaders from diverse backgrounds, in particular workers of color, international student workers, STEM workers, and others representative of the ASE workforce.

Develop an organizing committee of worksite leaders at their respective worksites.

Train organizing committee members to move worksite organizing campaigns

Conduct organizing trainings in collaboration with worker leaders

Assist leaders in mobilizing for union actions and campaigns through activities such as phone-banking, leafleting, door knocking, tabling, holding department meetings, etc.

Perform administrative tasks necessary for organizing (such as maintaining databases, producing materials and correspondence)

Any other duties/tasks as assigned
Required Experience and Characteristics:
Ability to work with, identify, and recruit leaders of diverse backgrounds and experiences

Ability to recruit members through one-on-one organizing conversations

Ability to role-play and workshop difficult conversations with co-workers, supervisors, and member leaders

Ability to facilitate and plan meetings that solicit broad worker participation

Work well in a fast-paced environment

Excellent oral and written communications skills, including prompt responsiveness to emails, phone calls, and other forms of communication

Ability to manage multiple tasks and projects simultaneously and meet established deadlines

Willingness to work late nights and weekends: this is not a 9 to 5 job

Must possess a valid California driver's license, auto insurance with adequate coverage, and an automobile for business use.

Must possess an email-capable cell phone for business use.

Must possess a laptop, iPad, or comparable portable computing device for business use.

Preferred Experience and Characteristics:
Demonstrated experience moving workers to action

Ability to provide organizing feedback to member leaders

Experience with organizing academic workers, public sector employees, and/or student workers

Bilingual or multilingual (especially Farsi, Mandarin, Cantonese, and Hindi)

Familiarity with the political landscape of California and the University of California
Scope and Nature of Supervision:
Organizers report to the Statewide Field Coordinator (staff leadership) and the Executive Board.
Salary and Benefits:
This position is covered by a collectively bargained agreement, with a generous benefits package and starting full-time salary of $68,621.
Instructions for Applying:
Interested applicants should submit a résumé, 3 references, and a one-page cover letter with the subject line "[Your Name] Field Organizer Application" to the local executive board's hiring committee at: jobsuaw2865@gmail.com. We will begin reviewing applications on a rolling basis on May 27.
WHEN APPLYING: Be sure to indicate that you saw this information at UNIONJOBS.COM.