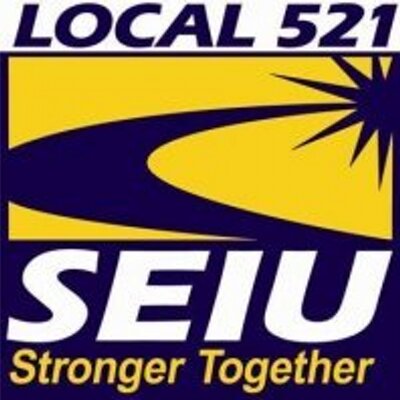 SEIU Local 521

CESA
Contract Enforcement Specialist Assistant
Based in San Jose, CA

SEIU Local 521 was founded in 2007 when 5 local unions came together in the Bay Area, Central Coast and Central Valley to form one larger, more powerful union. Together our members are building a true 21st century union fighting to empower and improve the lives of working families. We represent 40,000 public service workers in diverse industries including cities, counties, courts, schools, private non-profits, special districts and public health care. We are looking for energetic, hardworking staff that is committed to making real change and who believes that organizing is critical to building real power for working people.
LOCATION: San Jose / This is an hourly position.
ASSIGNMENT: The Contract Enforcement Specialist Assistants will be assigned to work with members in one or more organized jurisdictions of SEIU Local 521 representing clerical, blue collar, professional and service workers in the public and private sector. They will work from an established office and answer all incoming calls from members needing assistance with contract issues, worksite problems, and will be responsible for filing grievances/disciplines and appeals.
TYPICAL TASKS:
First duty is to keep track of the contracts in their geographic area and to familiarize themselves with other contracts to help out when other Contract Enforcement Specialist Assistants are unavailable.

Identify and process the paperwork associated with grievances/disciplines, and appeals at all levels, meeting timelines on all related aspects of the grievances/disciplines/ appeals process.

Work with stewards through the Skelly hearings, making himself/herself available on phone alert to assist stewards if he/she needs help during a hearing.

Coordinate with stewards and officers in their representational duties, including grievances and disciplinary appeals. Follow up when necessary. Encourage member participation in COPE and other campaign activities within the union as part of their normal conversation.

Attend bi-monthly meetings of CED staff for training and coordination.

Assist internal organizers by attending occasional meetings and report statistics of the types of questions asked.

Confirm and update member contact information in Unionware. Run lists/reports, learn advanced computer Unionware program to develop and manipulate reports, charts and graphics.

Track and submit to database all new and "retired" stewards for the area, and submit any updates in steward contact information to database. Submit required documents to Agencies of new and "retired" stewards to meet the requirements of the Agency.

Perform steward orientations once every two weeks for any newly elected stewards, give them their cards, steward manual, and welcome them. Assist in other steward trainings. Orient new stewards.

Assist the Contract Enforcement Specialist in the jurisdiction or as assigned by calling back members, discussing matters with stewards, interviewing witnesses, drafting grievances, and answering steward calls about the status of the case.

Receive all incoming calls from the front office person regarding members needing assistance with contract issues, worksite problems, and other union activities, events and project as assigned. If unavailable, the call will be returned as soon as possible within their work schedule.

Refer calls to worksite organizers and supervisors especially being aware of repetitive problems in an area and work place issues that would lend themselves to workplace actions.

Assist Contract Enforcement Specialist by filing grievances, preparing for appeals when members do not agree with staff decision.

In small offices may be the phone answerer at times, but not in prolonged absences.

Cover for other Contract Enforcement Specialist Assistants as necessary in other 521 areas via phone and transfer issues when completed.
QUALIFICATIONS:
Ability to establish rapport and orient stewards in widely diversified ethnic, social and economic groups. Good judgment and ability to discern priorities when faced with many important tasks. Some knowledge of labor rights and extensive contract language and ability to learn these quickly.

Ability to communicate well in writing and orally. Computer skills, strong typing, and ability to maintain work files and comply with administrative reporting. Bilingual in Spanish a plus.

These skills will normally have been developed by working as a full time union staff member in organizing or representational assignments, extensive experience as a steward or other union leadership position, or paralegal work.
COMPENSATION:
Compensation: This is an hourly position

Employer-paid retirement plan & 401K.

Fully-paid health insurance for worker and dependents.

Liberal vacation, sick leave and holiday schedule.

Life insurance, dental, vision care and flexible spending accounts.
Requirements: CESA will not be required to drive as a requirement, but if he/she chooses to drive for work-related acts, he/she shall provide proof of a valid California driver's license and shall receive mileage reimbursement at the maximum IRS rate.
To Apply: Send cover letter and résumé to Riko Mendez, Chief Elected Officer Attention: Pam Rodgers, Administrative Director
SEIU Local 521
2302 Zanker Road
San Jose, CA 95131
Email: jobs@seiu521.org
Fax: 408-954-1538
No phone calls please
This position is open until filled; however, the posting/acceptance of applications may close at any time.
AFFIRMATIVE ACTION EMPLOYER
Local 521 is an affirmative action employer and encourage applications from all qualified candidates regardless of race, ethnicity, age, sex, sexual orientation, marital status, religion, or disability.Local 521 works to ensure fair treatment of applicants and employees and actively enforces policies against discrimination and sexual harassment.
WHEN APPLYING: Be sure to indicate that you saw this information at UNIONJOBS.COM.