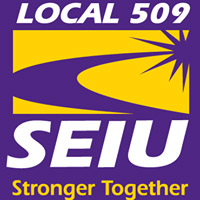 Internal Organizer, Higher Education Chapter
(Temporary Position)
Based in the Greater Boston area, MA

ABOUT SEIU LOCAL 509
SEIU Local 509 represents nearly 20,000 human service workers and educators throughout Massachusetts. We provide a variety of social services to elders, at-risk children, and people with mental illnesses or developmental disabilities — as well as educational services in both public and private sector settings. From mental health clinicians and social workers to early childhood educators and university lecturers, Local 509 members are united in our mission to raise living standards for all working families while improving the quality and affordability of the services we provide.
SEIU Local 509 is part of the 2.1 million-member Service Employees International Union, the fastest-growing labor union in the United States. SEIU is the nation's largest healthcare union, the largest property services union, the second-largest public employee union, and the fastest-growing union in early childhood and higher education.
ABOUT FACULTY FORWARD
At most colleges and universities, contingent (non-tenure track) faculty are a majority of all faculty. They experience unequal pay, job insecurity, lack of institutional support for research and scholarship, and exclusion from decisions that affect them. Most have restricted or no access to benefits. At the same time, colleges and universities have shifted resources from instruction to administration, funded by quickly rising tuition, resulting in record levels of student debt. By coming together to form unions, contingent faculty have the power to do something about this by building a market-wide movement to raise standards for faculty and students alike.
Faculty Forward is a national campaign of SEIU, and SEIU 509 is the campaign's flagship local. We are home to nearly 4,000 unionized faculty and graduate student employees who are fighting for and winning improvements in pay, job security, professional development funding, evaluation processes, and access to benefits. Together, the campaign has united non-tenure-track faculty to address the crisis in higher education — and the troubling trend toward a marginalized teaching faculty that endangers our profession and our students' learning. Local 509 represents part- and full-time faculty and graduate student employees at Bentley, Boston University, Brandeis, Lesley, Northeastern, and Tufts.
JOB DESCRIPTION
Local 509 is hiring a temporary, full-time Internal Organizer in the union's Higher Education chapter while an Organizer is out on leave. The Internal Organizer will organize and represent faculty in private institutions of higher education. Work will primarily take place in the Greater Boston area, though travel throughout the state may be necessary. Work will last for approximately 4 months, including an on-boarding/transition month beginning in July.
GENERAL STATEMENT OF DUTIES
Identify and develop strong member leaders

Work with union officers, stewards, and members to solve problems at work through formal (grievance and arbitration process, impact bargaining, Labor-Management meetings) and informal (direct action, member-led activities) means

Participate in and lead the current internal programs of the union, including coordination of new member recruitment and member retention

Build strong contract campaigns and negotiate collective bargaining agreements

Mentor, develop, and assist member leaders in successful workplace action programs, holding regular worksite meetings and ensuring communication systems exist

Mobilize workers and other stakeholders (students, tenure-track faculty, parents, etc) around worksite issues

Engage faculty in building a powerful political program

Involve members in external organizing campaigns that bring a strong union voice to new faculty groups

Coordinate campaigns with student groups and other community allies

Perform related work, as required
REQUIRED JOB QUALIFICATIONS
Familiarity with unions and contract/issue-based campaigns

Experience with internal organizing (building member leadership, liaising between employees and management, enforcing contracts, etc.), either as union staff or as a member leader

Basic computer skills, familiarity with both Microsoft and online applications (such as Excel and Google Sheets), and a willingness to learn new applications

Excellent communication and interpersonal skills (listening, speaking and writing)

Strong commitment to the labor movement

Excellent judgment, discretion, and decision-making skills

Ability to defend member rights both assertively and professionally

Ability to work both independently and as part of a team

Ability to work under pressure and with people from diverse backgrounds

Willingness to take feedback, try new ideas, and improve practices as needed

Willingness to work long and irregular hours, including nights and weekends

Possession of an insured, registered vehicle and a valid driver's license
DESIRABLE JOB QUALIFICATIONS
Experience with collective bargaining (e.g., drafting contract language, verbal negotiations, etc.) is strongly preferred

Experience working in a higher education environment, either as an educator or a union representative for educators, is strongly preferred

Experience with digital communication platforms (e.g. Constant Contact)

A graduate degree (in any field) is a plus, but is not required
SUPERVISION
Internal Organizers work under the Higher Education Coordinator (or designee), who reviews work for effectiveness, timeliness, accuracy, and conformance with applicable rules and regulations.
Internal Organizers may directly supervise interns, and may provide functional supervision for other employees or member leaders.
SALARY & BENEFITS
SEIU Local 509 offers competitive salaries and a generous benefits package, including car allowance. This is a union-represented position with a minimum starting salary of $64,883 ($2,496 bi-weekly), commensurate with experience.
APPLICATION PROCESS
SEIU Local 509 is an equal opportunity employer with a commitment to diversity — women, people of color and LGBTQ candidates are strongly encouraged to apply. Interested candidates should submit a résumé and cover letter, with "HIGHER ED INTERNAL ORGANIZER" in the subject line, to Matt Dauphin, Higher Education Coordinator, at jobapplication@seiu509.org.
Your cover letter should explain your interest in this temporary position and provide an example of how you succeeded in a similar position (not necessarily temporary). Applications will be reviewed on a rolling basis. We are looking for a candidate to begin work in July, with the goal of having a month to work with the outgoing Organizer. No phone calls please.
WHEN APPLYING: Be sure to indicate that you saw this information at UNIONJOBS.COM.