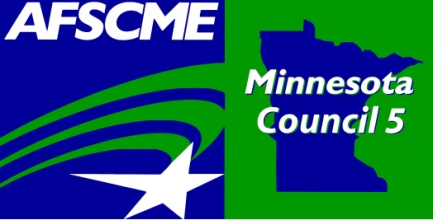 Field Representatives (6)
Based in South St. Paul, MN

AFSCME MN Council 5 is currently taking applications for the position of Field Representative. These positions will be based out of the South Saint Paul Office. At this time, we anticipate the assignments will involve working with State, Private, City and Local government local unions.
FIELD REPRESENTATIVE
The Field Representative is responsible for performing a multitude of duties providing representation to AFSCME MN Council 5 members and locals. The overall responsibility is for building local union capacity and empowering the membership.
JOB SUMMARY
Incumbents may perform any or all of the following duties and responsibilities for AFSCME MN Council 5 on a recurring basis depending upon the individual local and/or unit assignments. Examples providing a general summary of work and should not be treated as a total and complete list of duties performed by employees in the classification.
JOB DUTIES
Facilitate a continuous internal organizing program with assigned Locals and Units.

Works with locals and/or units to develop and implement a process in which the members are involved in finding and implementing solutions to problems rather than having problems solved for them.

Arranges and participates in frequent site visits to improve communications with rank and file bargaining unit members. This is in addition to regular meetings with leadership of local unions.

Communicates to the membership policies and positions of the organization; provides advice and guidance to the membership and leadership regarding issues facing the organization.

Promptly and accurately responds to all forms of communication.

Attends as needed, local and/or unit meetings.

Has the ultimate responsibility for the enforcement of the collective agreements. Processes and prepares grievance files in accordance with Council 5 policies. Prepares and conducts arbitrations.

Assists local and/or units in preparation for negotiations. Does research, when necessary, to conduct negotiations. Serves as the chief negotiator in contract negotiations.

Attends to labor relations problems as they occur. Serves as a resource person for legislative items, trends in collective bargaining, and other matters relating to terms and conditions of employment.

Trains Local Leaders and Stewards on their duties as a Leader and Steward.

Actively look for and support opportunities and activities to organize unrepresented groups of workers.

Will complete accurately and timely all AFSCME MN Council 5 required forms, including activity and expense reports.
ACCOUNTABILITIES
Field Representatives must be able to work independently and make necessary decisions concerning all aspects of representation. They are accountable to the assigned Field Director and ultimately to the members of AFSCME MN Council 5.
JOB REQUIREMENTS
High School diploma or equivalent (A Bachelor Degree is preferred).

Knowledge and ability to have one-on-one Organizing conversations.

Knowledge of and/or experience in the labor movement and its various structures.

Demonstrable ability to organize, plan work and move a program.

Ability to analyze and resolve complex problems.

Ability to work under pressure, independently with limited supervision.

Ability to communicate effectively in all formats.

Availability to work long, irregular and unusual hours, including weekends and holidays. Most weeks will be more than 40 hours.

Must have a valid driver's license and be insurable.

Knowledge of computers, internet and email.
Resumes and references submitted to:
Michelle Stein
AFSCME Minnesota Council 5
300 Hardman Avenue South
South St. Paul, MN 55075
Email resumes accepted at: Michelle.Stein@afscmemn.org; fax resumes accepted at: 651-455-1311.
(No phone calls please)
DEADLINE FOR APPLYING IS 4:00 PM TUESDAY, JANUARY 24, 2017
AFSCME MINNESOTA COUNCIL 5
(American Federation of State, County, and Municipal Employees, AFL-CIO)
651-450-4990
AFSCME MN Council 5 is an Equal Opportunity Employer; women and people of color strongly encouraged to apply.
WHEN APPLYING: Be sure to indicate that you saw this information at UNIONJOBS.COM.