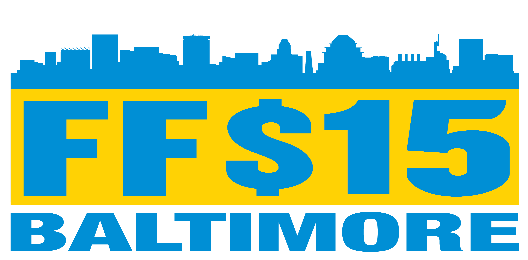 Campaign Director
Fight for $15 Baltimore
Baltimore, MD

Title: Campaign Director - Fight for $15 Baltimore
Location: Baltimore City, Maryland
Duration: Temporary
Fight for $15 Baltimore is a legislative campaign seeking to improve wages for Baltimore's workers. Increasing the minimum wage to $15 per hour will improve the economic stability of Baltimore City workers and their families, as raising the minimum wage reduces poverty.
Fight for $15 Baltimore campaign includes building a strong coalition of advocates from the grassroots, faith, labor, and business communities as well as elected leaders to raise the issue in the public consciousness and advance the legislation in the Baltimore City Council.
Position Description
Fight for $15 Baltimore is seeking a Campaign Director who will oversee this campaign including but not limited to expanding the coalition, coordinating efforts with partners and stakeholders, and implementing local grassroots and grass-tops advocacy efforts. S/he will identify, recruit and develop storytellers to provide testimony at hearings and events. This includes engaging business owners and workers and the community.
Primary Responsibilities
Recruit and manage diverse coalition members

Represent Fight for $15 Baltimore at public meetings and public

forums.

Coordinate public actions and events to promote initiative and foster

public support.

Promote Fight for $15 Baltimore to community activists and leaders,

and encourage them to sign on to the initiative and organize them in

support of our efforts.

Collaborate effectively with staff and partners to lead in developing

targets and deliverables that are required for successful canvass

operations.

Work with Communications Director and other staff to write blog

entries and drive social media efforts around Fight for $15 Baltimore.

Cultivate and maintain relationships with activists, advocates and

elected leaders

at the local level.
Secondary Responsibilities
Monitor news/social media for news relevant to minimum wage and local economy.

Attend meetings & events

Attend events to staff information booths and gather supporters for Fight for $15 Baltimore.
Requirements
Minimum of 3-4 years managerial experience in grassroots non-profit, labor, community or political organization.

Some experience with member and/or leadership development and outreach.

Work closely with field and communications staff to identify and develop compelling narratives around our campaigns, and ensure all actions and messaging reinforce our brand and values.

A sincere passion and commitment to social, economic, and racial justice.

Excellent written and verbal communications skills.

Critical thinking and problem solving skills to assess threats and recommend actionable solutions.

Relentless drive, tenacity and a willingness to do whatever it takes to advance our mission and values.

Attention to detail and strong follow-through and self-direction on assignments.

Ability to work effectively with strong personalities, peers, public officials, and allies.

Driver's license and willingness for regular in-state travel.
Salary
Salary for this position is commensurate with the amount of relevant professional experience that a candidate possesses.
To Apply
Please email a resume, cover letter, and three professional references to
Ricarra.jones@1199.org with "FF$15-Baltimore" in the subject line.
Applications will be accepted through January 2017.
WHEN APPLYING: Be sure to indicate that you saw this information at UNIONJOBS.COM.