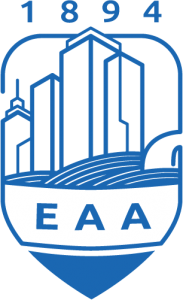 Engineers & Architects Association
IBEW Local 11

Executive Director
Based in Los Angeles, CA

Applications will be accepted from 12/22/16 – 3/15/17
Applications should be submitted in person at EAA Offices by mail or on-line at: https://goo.gl/e81C4I
ABOUT EAA
EAA represents approximately 5,100 City of Los Angeles employees, who are employed in every City Department and Bureau and work at almost every one of the City's hundreds of work locations. Our members are involved in every aspect of service to the citizens of this great city. EAA hires only the most qualified and the most dedicated individuals for its professional staff. This provides the maximum benefit for members and engenders respect from their counterparts at the City. EAA utilizes the same care in its selection of outside assistance, employing the finest labor legal counsel in Southern California and using only Union shops for its printing and consulting needs.
THE POSITION
The Executive Director position for the Engineers and Architects Association (EAA) is contractual with a term to be determined. The Executive Director is responsible for overseeing the administration, programs, and strategic plan of EAA, an employee union representing employees of the City of Los Angeles. Other key duties include liaison with government officials, their respective staffs, contract negotiations, marketing, political outreach and community outreach. The Executive Director reports to and is supervised by the Board of Governors. The Executive Director is a position that requires the trust and confidence of EAA's elected officers and the membership. The Executive Director's duties shall be performed with an understanding and appreciation of EAA's core mission as an employee representation organization for public service professionals of the City of Los Angeles and of its democratic structure of governance and accountability.
The Executive Director must have proven experience as an Executive Director or other managerial position and demonstrate the following qualities and attributes: experience in strategic planning and implementation, leadership, team building, relationship building, crisis management, vision, goal setting, an analytical mind capable of problem solving and thinking out-of-the-box, motivation, strong communication and public speaking skills, an understanding of corporate finance and measures of performance, corporate governance principles and managerial best practices.

Applicants should have experience and a working knowledge of Los Angeles City and California State government political environment and labor relations.
JOB DESCRIPTION
The Executive Director shall perform the following duties:
Build an organizational structure for purposes of institutional self-defense, member communications and related goals

Ensure an adequate complement of trained representatives and other staff internal to EAA's structure (with the number of representatives and staff determined by the Board of Governors)

Prepare a proposed annual budget for submission to the Board of Governors

Manage EAA's day-to-day operations and programs

Report directly to the Executive Committee and Board of Governors

Provide consultation and assistance to elected leaders and members

Attend all meetings of the Board of Governors, as appropriate

Attend all meetings for field staff, including Stewards, as needed

Serve as the lead or leading member of the negotiating team, as appropriate

Manage contract administration and grievance adjudication

Analyze and evaluate the annual City of Los Angeles Budget to support the negotiating team and to monitor City employment levels

Develop membership and leadership capacities

Manage internal and external communications

Manage political advocacy and governmental relations

Oversee the running of the EAA office, and manage employee matters within parameters established by the Board of Governors

Delegate authority to staff to perform duties that the Executive Director cannot perform after consultation with EAA's Executive Committee.

Perform any other duties assigned by EAA's Board of Governors that are consistent with the Executive Director's management position.
These duties and the degree of their achievement are intended to serve as performance measures which shall be given primary consideration by the EAA Board of Governors when deciding to renew or extend the contract of the Executive Director. The principal function of the performance review is to improve the quality of representational activities over which the Executive Director has responsibility. The process should promote professionalism, enhance performance, and be effective in yielding a useful and substantive assessment of performance.
QUALIFICATIONS AND CRITERIA FOR PERFORMANCE REVIEW
Maintains continuity in different areas of job responsibilities.

Communicates clearly, correctly and effectively, both orally and in writing.

Follows legal guidelines in assuring that EAA adheres to its duty of fair representation.

Sensitivity to the diversity of the membership.

Makes oneself available to the membership.

Participates in applicable representational bodies.

Participates in professional growth and development activities.

Works cooperatively and effectively with others.

Meets obligations on time.

Fosters an office environment, which is free from harassment, prejudice or bias.

Provides effective supervision of other office staff.
EDUCATION REQUIREMENTS
Applicants should have a bachelor's level degree, or at least 5-years of supervisory experience, or at least 5-years of experience in business administration or relevant related fields, including budget experience. A Juris Doctorate (J.D.) is highly desirable.
SALARY
Commensurate with education and experience
WHEN APPLYING: Be sure to indicate that you saw this information at UNIONJOBS.COM.