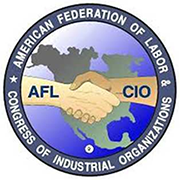 AFL-CIO Researcher and Campaigner Resume Posting Service
http://www.aflcio.org/researchjobs/

STRATEGIC RESEARCHERS and CAMPAIGNERS

There are ongoing STRATEGIC RESEARCHER and CAMPAIGNER openings nationwide, mostly at affiliated unions around the country, and periodically at the national AFL-CIO in Washington, DC.
Resume Pool for Researchers and Campaigners:
The AFL-CIO Center for Strategic Research maintains a researcher and campaigner resume database. People who wish to work as strategic researchers post résumés on our database, which is consulted regularly by union hiring managers when filling researcher vacancies around the country. (Union managers are increasingly using this database to identify candidates for other campaign-related positions as well, like campaign communicators and lead organizers.) Adding your resume to the AFL-CIO researcher pool is an excellent way to get your application materials in front of hiring managers, whether you're a veteran campaigner or new to the labor movement.

Cities With Researcher Openings:
There are regular openings at AFL-CIO affiliated unions in locales like Chicago, Washington (DC), Las Vegas, Los Angeles, New York, and San Francisco. These locations change constantly as positions are filled and new ones open up. In addition, we assist periodically in filling jobs that can be done from anywhere and don't require a move to a particular locale. Please note that you can indicate your geographic preferences when posting your resume.

Who We're Looking For:
We're looking for new and seasoned activist-researchers: people with experience in union campaigns, community organizing, or political campaigns; recent college grads, grad students, or professionals with skills in economic analysis, industry research, financial analysis, employment law, corporate research, or investigative journalism; and people with a strong commitment to working in the labor movement. Women and people of color are encouraged to apply.
How to Submit Your Resume:
Post your resume at http://www.aflcio.org/researchjobs/. You will be prompted to fill out a short posting form and to upload two items: your resume and a cover letter explaining why you wish to work as a strategic researcher, campaigner, or communicator.
What Happens After Adding Your Resume to the Pool?
If a union is interested in pursuing your application, you will be contacted directly by the individuals who are hiring for specific positions. Adding your materials to the pool does not guarantee that you will be contacted for an interview.
**Qualifications, pay, benefits, and job duties for researchers vary by union, so you will need to discuss specific job openings with a union staff person if you are contacted for an interview. In addition to posting your materials at CSR, you are encouraged to contact affiliated unions directly about any researcher openings.
Currently employed by an affiliate?
Research managers at all AFL-CIO affiliates have access to resumes posted with us. If you are currently employed by an affiliated union, you should post with us only if you've notified your employer that you're looking.
WHEN APPLYING: Be sure to indicate that you saw this information at UNIONJOBS.COM.