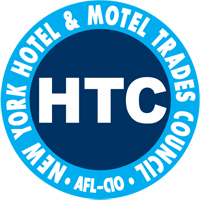 VIDEO COMMUNICATIONS SUPERVISOR
For more information, visit www.nyhtc.org
The New York Hotel and Motel Trades Council, AFL-CIO, is the union that represents approximately 28,000 hotel workers in New York City. The Hotel Trades Council is the strongest union, with the best contract, for hotel workers in North America.
We have built a rank-and-file leadership structure called the Hotel Employees Action Team (H.E.A.T.) System. The purpose of the H.E.A.T. System is to increase the participation of the membership in the union and to greatly enhance the union's ability to mobilize our members for large-scale action, in order to Organize non-union workers, to fight for higher wages and better benefits, and to increase the rights of hotel workers.
As an extension of the H.E.A.T. System, we are developing the capacity to produce our own videos ("industrials"), such as a regular video news magazine for members, videos to be used in external Organizing campaigns, training videos for staff, and other videos for special projects and issues. We are seeking an energetic, intelligent, and dedicated individual to help lead this effort.
Responsibilities include (but are not limited to):
Conceptualizing, producing, shooting and editing videos

Writing and recording narration voice-over for videos

Overseeing the future purchase and implementation of new video and photographic technology

Educating and training the staff on various A/V technologies and software applications

Hiring, firing, directing, and supervising the work of paid staff

Organizing, cataloging and archiving the union's video, film and photographic collection.
Qualifications:
Proficiency with Final Cut Pro Studio

Experience in production and post-production of documentary, news and educational video

Practical knowledge of various audio and video recording technologies, including Panasonic DVX-100 and wireless microphones

Thorough knowledge of interview techniques in the production of documentaries

Experience in lighting for interviews

Experience in organizing large archival tape libraries

Current knowledge of video and audio codecs and conversion methods

Ability to juggle multiple tasks, work efficiently, and stay well organized

Thorough attention to details, ability to respond quickly and appropriately to high intensity situations

Self-starter, and someone who will bring new ideas to the department

Patient, friendly personality, and ability to motivate and teach volunteers and staff to perform tasks with which they are not familiar

Resourcefulness, creativity, and ability to problem-solve

Commitment to social justice

Willingness to work hard and put in long hours

Willingness to travel on behalf of the union when necessary
Extra consideration will be given to candidates who possess any of the following:
Bachelor's degree

Knowledge of a second language (especially Spanish, Mandarin, Cantonese, Russian or Polish)

Knowledge of web design, graphic design, motion graphics, and animation including After Effects and Flash
This position offers good prospects for promotion. Resourceful and committed staff members who become familiar with the union's operations will have numerous opportunities for rewarding and interesting work.
Annual salary will be in the range of $40,000 to $45,000, in addition to an excellent benefits package (including medical, dental, optical, prescription drugs, pre-paid legal, Flexible Spending Accounts, Life Cycle Benefits, and Long Term Care Insurance) with family coverage (including domestic partners) and retirement package.
How to apply:
In addition to a résumé and references, applicants for this position should include a cover letter that explains clearly and concisely the reasons for their interest in the position at the New York Hotel Trades Council, and which of the above-listed qualifications they possess and which they do not.
Send résumé, references, and cover letter to: careers@nyhtc.org
The New York Hotel Trades Council, AFL-CIO, is an equal opportunity employer. All persons regardless of age, race, ethnicity, gender, religious affiliation or sexual orientation are encouraged to apply. People of color and women are strongly urged to apply.
WHEN APPLYING: Be sure to indicate that you saw this information online at UNIONJOBS.COM.