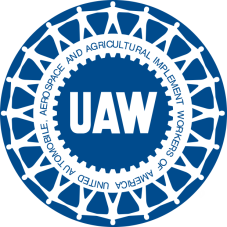 United Automobile, Aerospace & Agricultural Implement
Workers of America International Union

Campaign Organizer
Based in the Bay Area, CA

The International Union, United Automobile, Aerospace and Agricultural Implement Workers of America (UAW) is one of the largest and most diverse unions in North America, with members in virtually every sector of the economy. UAW-represented workplaces range from multinational corporations, small manufacturers and state and local governments to colleges and universities, hospitals and private non-profit organizations.
The UAW is searching for talented and experienced organizers to support strategic campaigns in Northern California, based in the Bay Area.
Job Responsibilities:
Identify, recruit, train, develop and inspire worker leaders through one-on-one and group communication

Independently conduct home visits and effectively move workers to collective action

Organize and lead productive, structured meetings

Build strong one-on-one relationships with worker leaders and train them to mobilize coworkers within their own networks to join in action with them

Mobilize workers to take part in broader national efforts to support their workplace organizing campaign—to tell their stories to reporters, engage in social media strategy, and engage with potential political and community allies

Maintain a database using Microsoft Access

Participate in team development of campaign strategy

Contribute to development of digital and written campaign messaging strategy and materials
Job Requirements:
Willingness to work long and irregular hours, including nights and weekends

Must be an engaged listener and able to move conversations with workers by asking provocative questions

Must be able to respectfully challenge people to take action that may move them outside their usual comfort zone

Ability to identify existing social networks between workers and use them to develop a broad worker organizing committee

Capacity to work independently and with a team, and with people from diverse backgrounds

Strong communications skills and computer/smartphone literacy

Willingness to conduct home visits independently

A demonstrated commitment to economic, racial and social justice

Previous experience in union organizing required; previous experience in community or political organizing desired

Experience with NLRB board elections and knowledge of internal organizing principles a plus

Ability to communicate in Tagalog, Vietnamese or Spanish strongly desired; other languages a plus

Experience utilizing social media and online tools in organizing drives a plus

Organizing experience with demonstrated success in new organizing campaigns a plus

Salary and benefits are highly competitive.
To Apply: Email your résumé, cover letter and three references to cgeis@uaw.net, wpittz@uaw.net, and kmiller@uaw.net.
WHEN APPLYING: Be sure to indicate that you saw this information at UNIONJOBS.COM.