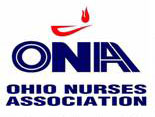 Organizer
Based in Columbus, OH

The Ohio Nurses Association (ONA) has an exciting opportunity available for an energetic professional interested in joining our labor program team. The Organizer is responsible to assist nurses in organizing collective bargaining units and maintaining existing units. In the case of nurses not yet organized, the Organizer assists nurses in seeking legal routes of recognition. In the case of internal organizing, the Organizer is responsible to work on issues of communication, morale, defeating decertification petitions or other support necessary to maintain the units.
Essential Functions
Organizing

Assists in the evaluation and development of the philosophy, objectives, and methods of ONA's Organizing Program.

Assists in identifying legal routes of union recognition for registered nurses.

Assists in planning, organizing and establishing strategies for organizing campaigns.

Implements identified organizing strategies.
Communications
Builds and maintains a library of persuasive materials for campaigns.

Communicates the value of unions to registered nurses.

Assists in the development and implementation of identified communications strategies.

Accepts assignments for organizing, servicing, and education activities.

Encourages registered nurses that favour the union to come out in support of the union.

Responds to phone calls, emails and other forms of communication in a timely manner.

Assures that all marketing and public relations communications intended for public release are reviewed by the Director of Communications.
Relationship Building and Networking
Interacts with a variety of people and potential partners.

Participates in outreach activities to the members and non-members.

Collaborates with other departments as needed to further campaigns.

Travels throughout Ohio and occasionally nationally.
Data Collections and Analysis
Researches to find information including, but not limited to, names, phone numbers and addresses.

Reviews and analyzes trends in labor relations, health care, nursing practice, target employers or other information pertinent to the ONA's Organizing Department.

Collects and compares information related to workers wages and benefits.

Reviews and analyzes information in order to present it in the most persuasive way possible.

Submits periodic program reports.
Other Duties as Assigned
Participates in staff meetings and other required meetings and seminars.

Assists in the coordination and preparation for the biennial convention.

Attends as a staff member and performs assigned duties at the biennial convention.

Takes ownership of assigned responsibilities and work product.

Submits time electronically on a weekly basis.

Submits credit card statements, if necessary, by the deadlines established.

Respects computer and laptop service requests and responds timely when action is required.

Provides information on the intranet calendar when out of the office.

Maintains documents in a format that makes them readily accessible to other staff in accordance with office policy.

Travels throughout Ohio frequently. National travel occasionally. Overnight trips occasionally.
The statements contained herein describe the scope of the responsibility and essential functions of this position, but should not be considered to be an all-inclusive listing of work requirements. Individuals may perform other duties as assigned including work in other areas to cover absences or relief to equalize peak work periods or otherwise balance the workload.
Typical Physical Requirements
Regularly uses a telephone and e-mail system for communication.

The person in this position frequently communicates with coworkers and Association contacts who have inquiries. Must be able to exchange accurate information in these situations.

The person in this position needs to occasionally move about inside the office to access file cabinets, office machinery, etc.

The person in this position must be able to drive a car.

The person in this position frequently operates a computer and other office productivity machinery, such as a calculator, copy machine, and computer printer.

This person frequently travels out of the office and drives to locations in close proximity or several hours away and must be able to transport a variety of boxes, bags and materials.

Light work – Exerting up to 20 pounds of force occasionally and/or up to 10 pounds of force frequently, and or a negligible amount of force constantly to move objects. If the use of arm and/or leg controls requires exertion of forces greater than that for sedentary work and the worker sits most of the time, the job is rated for light work.
Employment Standards
Knowledge of:

Understands the steps and process of union organizing.

Collective bargaining principles and practices.

Communications strategies.

Social structures and social inequities.

Employer anti-organizing tactics.
Skill in:
Microsoft Office – Outlook, Power Point, Excel, and Word.

Making presentations.

Persuasion and negotiation.

Leading and facilitating meetings.
Ability to:
Prioritize and manage multiple projects simultaneously.

Organize work priorities.

Work independently in a trust worth manner.

Solve problems and troubleshoot.

Handle stressful situations.

Learn new things quickly.

Develop and deliver presentations.

Work with individuals and groups.

Relate to and establish rapport with all types of peoples.

Use diplomacy and tact when dealing with others.

Demonstrate a helpful, accepting attitude towards members and others.

Negotiate with others.

Resolve conflict.

Respond knowledgeable, often without much advance notice, on a variety of issues related to the nursing profession.
Additional knowledge, skills and abilities may be required to perform additional tasks specific to work or special assignments.
Additional Qualifications
Any combination of education and experience, which would likely produce the necessary knowledge and abilities, is qualifying.
Bachelor's degree in Social Sciences, Sociology, Psychology or related field.

One year of experience in labor or social movements. May have been voluntary.

Collective Bargaining.

Current Ohio driver's license.

Willingness to work flexible and irregular hours, including night and weekends as needed.

Maintain eligibility for auto insurability through ONA's carrier.

If registered nurse, member of ONA or another SNA.
To apply, email cover letter, resume and salary requirements to: Jobs@ohnurses.org. Include "Organizer Position" in the subject line. Individuals will be considered applicants if they are contacted for an interview. Reasonable accommodations will be provided to applicants with a disability during the recruiting process. EOE
WHEN APPLYING: Be sure to indicate that you saw this information at UNIONJOBS.COM.