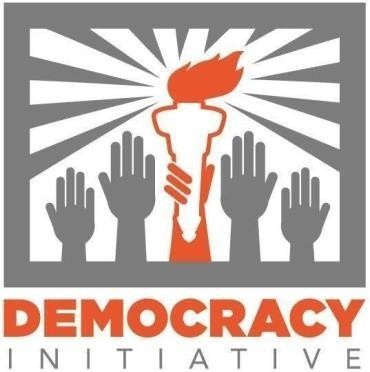 2018 Grassroots Campaigns Director
Based in Washington, DC

The Democracy Initiative (DI), a coalition of 64 progressive organizations including environmental, civil rights, and workers' rights groups, seeks a highly energetic and creative Campaign Director to direct engagement in local and state issue campaigns that address the DI's core priorities – voting rights, money in politics, and redistricting. The Campaign Director will mobilize and collaborate with our partner organizations in exciting pro-democracy initiatives that expand participation and build power. Working at the DI offers a unique exciting opportunity to be at the center of the intersectional struggle for democracy, interacting with 40 million members of coalition partners.
The position is based in Washington, D.C., but will require travel. The individual will play a supervisory role, working with other organizers.
The Campaign Director must have 8-10 years of experience that includes running large scale field campaigns and mass mobilization efforts. The individual's experience should reflect the values of social change, including working with progressive organizations or labor unions. The candidate should be creative, a problem-solver and be able to discuss their participation in programs that demonstrate principles of solidarity, one-on-one organizing, strategic planning, focused messaging, and public speaking.
The ability to develop a strategic plan, including timelines, research, benchmarks, escalation of tactics, record-keeping, and effective communications is essential. The candidate must be able to work with diverse coalition partners and public officials. Excellent organizational and communications skills are required.
Qualifications:
8- 10 years of grassroots strategic campaign or electoral campaign experience at the local state and national level.

Strong knowledge of and relationships within the democracy or labor community

Experience with movement and coalition building with an openness to popular education.

Creative, flexible and a problem solver.

Independent focused and self-motivated with the willingness to work long hours including nights and weekends with the ability to travel.

Experience working and coordinating with digital and social media strategies.

Experience supervising organizers and holding them accountable to metrics.

Strong communication and administrative skills

Reflect the values of progressive social change principles.

Strong communication and facilitation skills.

Bi-lingual a plus.
Salary & Benefits: Commensurate to experience. Please provide your salary range. The preferred work location is Washington DC Metro area.
The Democracy Initiative is an equality opportunity employer and does not discriminate on the basis of race, color, national origin, sex, religion, age, disability, sexual orientation, gender identity, veteran status, height, weight, or marital status in employment.
To Apply
Please send a cover letter, résumé, and writing sample to jobs@democracyinitiative.org. Please note in the subject line the specific position for which you are applying.
WHEN APPLYING: Be sure to indicate that you saw this information at UNIONJOBS.COM.