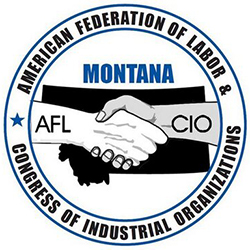 Montana AFL-CIO

Montana AFL-CIO COPE Director
Based in Helena, MT
extensive travel required

Works under the direction of and reports to Montana State AFL-CIO Executive Secretary and Montana Federation of Public Employees (MFPE) President.
Duties
Campaign, Political, and Community
Develop and direct the Montana AFL-CIO Member to member program

Develop and implement campaign plan, targeting, and priorities in consultation with board and affiliates

Manage release staff and volunteer members in the member to member program

Oversee field logistics and voter outreach efforts

Aid Central Labor Councils in volunteer recruitment

Develop and direct the Build Montana PAC independent expenditure program

Develop campaign plan, targeting criteria, and overall strategy

Direct paid canvass program and staff

Manage independent expenditure mail program

Manage independent expenditure phone program

Develop and implement off cycle issue based campaigns

Work with National AFL-CIO to maintain a useful and effective voter file

Represent the Montana AFL-CIO in political, community, and legislative coalitions.

Assist MFPE in candidate and ballot issue campaigns.
Internal
Aid Central Labor Councils in local political action

Coordinate the bi-annual COPE committee

Aid Central Labor Councils in candidate interview process

Work on targeted candidate recruitment of pro-jobs union members to run for legislature

Aid affiliates with internal priorities
Legislative
Represent the Montana AFL-CIO in the Legislature

Coordinate the Montana AFL-CIO Labor Lobby meetings and strategy

Represent the Montana AFL-CIO in interim committees

Develop grassroots legislative mobilization program

Coordinate member educations programs on priority legislation

Communicate with labor leadership, internal staff and volunteers regarding legislative activities

Develop the Montana AFL-CIO Scorecard and Transmittal Report

Coordinate legislative lobbying with MFPE.
Additional Duties
Analyze and understand local and national legislation impact to workers and the labor movement

Develop expertise in subject matters related to workers and the labor movement (i.e. workers compensation)

Keep current with local labor issues by making personal visits and phone calls to labor leadership, attending central labor council meetings and following media/social media related to workers and the labor movement

Additional duties as assigned by the Executive Secretary and MFPE President.
Knowledge, Skills and Abilities
Demonstrated understanding of federal and state campaign finance laws

Ability to work well with diverse membership and elected leaders

Administrative knowledge of the LAN/VAN and Catalyst

Working knowledge of Word, Excel, Google Docs

Ability to draft reports, speeches and memo's

Ability to listen critically, interpersonal and problem solving skills

Strong analytical background

Knowledge of U.S and Montana labor history helpful
Education and Experience
Degree in Marketing, English, Communications, Journalism, Education, Political Science or another applicable field plus a minimum of 2-3 years in community, labor or political organizing
Additional Requirements
Extensive travel is required
This is a permanent position and is covered by a collective bargaining agreement. Compensation includes: salary ($65,000-$75,000) depending on experience, health insurance, pension, disability and life insurance
Please submit a cover letter, résumé and three professional references to:
Al Ekblad, Executive Secretary
Montana State AFL-CIO
810 Hialeah Court
Helena MT 59601
Email: alekblad@mtaflcio.org
Phone: 406-442-1708
Equal Opportunity Employer
WHEN APPLYING: Be sure to indicate that you saw this information at UNIONJOBS.COM.