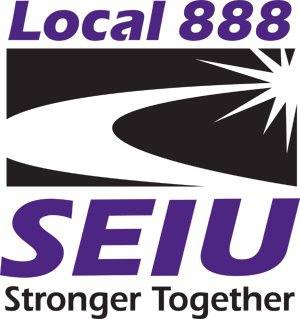 Field Representative
Based in Braintree – Covering Massachusetts

The Field Representative is an internal organizer, responsible for engaging and mobilizing members and the development of leadership in SEIU 888 chapters. Duties include building chapter strength in representation, negotiations, politics, organizing, and in the community.
Duties and Responsibilities:
Provide representational work in assigned chapters including but not limited to grievance handling and all phases of member representation

Lead contract negotiations, working closely and effectively with diverse and representative negotiating committees composed of elected member leaders

Work with existing leaders to train them and assist them in meeting the goals of the Union and their chapter;

Ensure leadership structures are in place and self-sustaining

Identify, recruit, and develop members to serve in important union leadership roles such as Chapter Chair, Steward, Negotiation team, etc.

Create membership networks within chapters and interwoven between chapters based on common interest (i.e. same employer, same work, same elected official etc.)

Continually work to find best ways of communicating with members (home email, work email, cell #s, home and work #s, etc.)

Create and organize contract campaigns and involve members in actions to accomplish goals
Other Duties
At times, Field Reps may be expected to participate in some or all of the following:
Organizing campaigns (including organizing unorganized workers in various ways, from accretions and residual units in your assigned region to new groups attempting to form their union)

Political campaigns (ranging from organizing and mobilizing members around local elections to traveling out-of-state to assist in a Presidential or other election)

Union Community events (i.e. 888 Night at a baseball game, BBQ or picnic, etc.)

Solidarity activities, such as participation in Central Labor Councils, helping other unions, working with other organizations fighting for social justice and workers' rights
Our primary focus is leadership identification and development. Negotiating contracts, assisting in grievances, and direct contact with members should all be viewed as conduits to developing and mobilizing members and leaders.
Scope and Nature of Supervision:
A Field Rep must be able to organize his or her time and develop and carry out plans with minimal day-to-day supervision. S/he must be able to receive direction from and interact with his/her immediate supervisor as necessary.
Criteria for Evaluation/Key Qualifications:
A Field Rep will be evaluated on his/her ability and skill in leading the Union's efforts to engage and organize members successfully. S/he will be evaluated on abilities including but not limited to:
Ability to effectively motivate and mobilize workers to participate in union activities/programs

Identification and development of leaders

Ability to lead contract negotiations

Display sound organizational skills to work independently and balance conflicting demands successfully

Optimize utilization of Local resources; ability to learn and make use of new skills

Ability to be flexible and adaptive, maintain a productive attitude, and take initiative in the work

Establish and cultivate respectful working relationships with people from diverse backgrounds, including members and other staff and employers

Knowledge of and willingness to utilize technology as needed (word processing, email, internet, databases, etc.)
Field Reps are expected to lead by example; it is the role of the Field Rep to provide a model of what is expected as a leader in the union.
Working Conditions: Field Reps may be required to work long and irregular hours, and at times work on weekends and holidays when necessary, and to travel as needed. Regional Reps must have a functional automobile and cell phone.
Experience/education required: Experience in public sector labor relations is required. Further: demonstrated ability to work with diverse groups of people, learn and adapt, and mobilize/capacity-build within an organization; ability and willingness to perform the duties listed above.
Compensation: Salary commensurate with experience. Full benefit package including 100% employer paid insurances (healthcare, STD/LTD, dental/vision). Position in bargaining unit (USWU-United Staff Workers Union).
To Apply
Contact Maureen Medeiros, Asst. Field Services Director, at mmedeiros@seiu888.org with résumé and contact information.
WHEN APPLYING: Be sure to indicate that you saw this information at UNIONJOBS.COM.