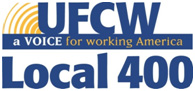 Representative
Growth Department (Organizer)
Based in Washington, DC Metropolitan Area
with some travel

Are you ready to join the fight? Are you looking to be a part of something meaningful that is creating real change in our communities? The UFCW is a powerful voice for working men and women. UFCW Local 400 represents 34,000 workers who work mostly in retail and food processing industries throughout the greater Washington DC area, Virginia and West Virginia.
UFCW Local 400 is seeking to hire someone in the following position:
Representative, Growth Department (Organizer)
Location: Positions are open servicing the following areas
Washington, DC metropolitan area
However you must be willing to travel to all areas covered by Local 400, including the entire states of Virginia and West Virginia and parts of Maryland, Tennessee, Ohio, North Carolina and Kentucky.
Major responsibilities include:
To build, understand, and articulate the campaign strategy

To be willing to share, grow, and critique your campaign visions, tactics, strategies and plans for execution

To be a flexible, honest, willing, and committed teammate to your fellow growth department staff

To initiate or expand union organizing campaigns by:

Building lists of employees at targeted worksites

Gathering data, having conversations and assessing interest at non-union work sites

Identifying community and political allies with influence over organizing targets

To win organizing campaigns by:

Developing and implementing work plans which carry out the campaign strategy

Planning and leading meetings and actions in support of the campaign strategy

Building strategic alliances and relationships within the broader community

To build majority support for the union by:

Building relationships, identifying issues, and assessing interest through home visits

Moving workers to take action in support of the campaign

Recruiting workers to join in collective action

To develop strong worksite leadership of campaigns by:

Building relationships and identifying leadership potential

Recruiting a representative group of leaders to a more active and responsible role in the campaign as members of the organizing committee

Developing individual leaders and the committee as a whole so that they are more confident, capable and active in their leadership of the campaign

To develop strong member organizers by:

Identifying roles for union members in campaigns

Orienting, training and directing union members who are on organizing campaigns

Assessing the ability of member organizers to contribute to the campaign

To provide and make strategic use of campaign data by:

Maintaining an accurate and updated database

Creating clear and accurate reports detailing the status of a campaign

Using reports to analyze the campaign and determine next steps

To support the success of Local 400 and the UFCW by:

Willingly taking on additional responsibilities and assignments as needed

Working as a collaborative member of the Local 400 team and demonstrating interdepartmental solidarity

Being a supportive member of the Local 400 family
Qualifications:
High School Diploma or equivalent

Knowledge or experience in labor movement or related experience

Ability to work independently

Ability to organize and plan work

Commitment to fight for justice and human rights

Excellent communication and interpersonal skills

Bilingual English/Spanish (and/or other languages) desirable

Willingness to work long, irregular hours

Valid driver's license
Type of Employment:
Compensation:
Salary dependent on qualifications and experience

Full benefits package, including health insurance, dental, pension, 401(k), legal
To apply: Submit a cover letter, résumé, accomplishments and references to resume@local400.org.
Local 400 is an Equal Opportunity Employer and highly values diversity of perspective and experience. We strongly encourage women, people of color, LGBT people, people with disabilities, and people with a working class background to apply.
WHEN APPLYING: Be sure to indicate that you saw this information at UNIONJOBS.COM.