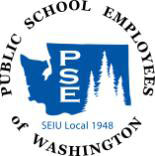 Public School Employees of WA
SEIU 1948

Field Service Manager
Based in Auburn, WA

Field Services Manager
Department: Field Services
Classification: Manager
Reports to: Field Services Director
Supervises: Field Services Personnel
DUTIES & RESPONSIBILITIES
This is a highly responsible supervisory position that works under the direction of the Field Services Director. This position provides leadership, direction and supervision to field services staff. Oversees the efficient and effective operation of the department to deliver the highest quality service possible. Exercises independent judgment and discretion in dealing with a variety of issues affecting members, staff and employers. Ensures that goals, objectives, operating policies, procedures and practices are pursued to ensure accomplishment of the mission and vision of PSE within the parameters of guidelines that have been adopted for the organization. Ensures that the department functions in a spirit of cooperation with the other service units of the organization and that activities are well coordinated. Assures that reasonable standards of performance and accountability for employees are developed and achieved through preventative, positive and corrective discipline. Utilizing the talents and creativity of staff, ensures that problems are identified and resolved as quickly as possible and that there is an ongoing search for new and better ways of providing services to members. Ensures that the provisions of the PSESO Collective Bargaining Agreement are observed and that a positive, productive working relationship with subordinates exists. Assists field representatives in meeting the total service requirements with negotiations and enforcing contracts.
REQUIREMENTS OF POSITION
Bachelor's degree in labor relations, public or business administration or education.

Significant technical training in labor relations, contract negotiations and enforcement, leadership and supervisory skills development from recognized training institutions.

At least 5 years' experience in a labor organization.

Excellent written and oral communication skills.

Ability to work effectively with people as a team member.

Ability to motivate subordinates and achieve high quality work while leading by positive example.

Excellent analytical, problem-solving and decision-making skills.

Demonstrated ability to apply creativity, innovation, and flexibility in pursuit of improved service and operations with a commitment to excellence evidenced in results achieved.

Unquestioned integrity and commitment to personal and organizational ethics and values.

Possession of valid Washington driver's license and willingness to use personal vehicle in course of employment.
WHEN APPLYING: Be sure to indicate that you saw this information at UNIONJOBS.COM.