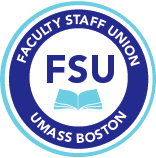 Administrative Assistant
Based at the University Of Massachusetts, Boston, MA

The Faculty-Staff Union (FSU) at University of Massachusetts Boston is hiring a half-time Administrative Assistant. This is a 15 to 20-hour a week job (number of hours to be negotiated and the schedule will be arranged with the supervisor. The pay is $15 per hour, with health care benefits. We expect work will start as soon as possible (start date is negotiable- we'll respond to applications after December 5th).
General Job Description: The Administrative Assistant will be supervised by the FSU Membership Coordinator, and will be responsible for the FSU's administrative, billing, and logistical needs as outlined below.
Sending FSU outreach/informational material to bargaining unit members.

Organizing and implementing programs for dues collection and invoicing.

Mailing certified letters of demand to dues non-payers.

Collecting, processing, and tracking dues/fees checks.

Database management (including reconciling MTA membership rosters, FSU membership rosters, and HR bargaining unit lists).

Tracking bargaining unit members status changes, making appropriate corrections in FSU database.

Informing Human Resources on a monthly basis of dues deduction additions and changes.

Analyzing and, when appropriate, correcting monthly dues deduction reports.

Processing check requests and FSU bills.

Scheduling meetings and booking meeting spaces.

Making copies and performing general administrative and office work as needed.
The requirements for the job include: Demonstrated experience using Microsoft Office and Access and with administrative systems. Preference will be given to those applicants with labor union or non-profit experience and/or a demonstrated commitment to the work and mission of labor unions. The ideal candidate will possess proficient written and communication skills, will be comfortable interacting with bargaining unit members in a variety of situations, will have strong attention to detail, and will be able to work independently. Ability to work well with people is essential. Associate's Degree or higher is preferred, or experience in similar positions.
To Apply
Please send a letter of interest, a resume and the names and contact information of 3 references to: Faculty Staff Union, University of Massachusetts Boston, 100 Morrissey Blvd., Boston MA 02125. If you have questions, please contact Lorenzo Nencioli, Faculty Staff Union Membership Coordinator (fsu@umb.edu; 617 287-6295).
WHEN APPLYING: Be sure to indicate that you saw this information at UNIONJOBS.COM.