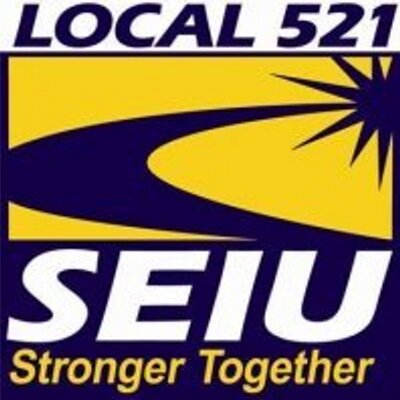 Campaign Researcher
San Jose, CA

SEIU Local 521 was founded in 2007 when five (5) local unions came together in the Bay Area, Central Coast, and Central Valley to form one larger, more powerful union. Together our members are building a true 21st century union fighting to empower and improve the lives of our members. We represent 40,000 public service workers in cities, counties, courts, schools, private non-profits, special districts, and public health care. We are looking for energetic, hardworking staff that is committed to real change, who believes in the value of work and the value of public services, and who wants to be part of the team that wins for workers, their families, and their communities.
LOCATION: San Jose
RESPONSIBILITIES: Under the supervision of the Research Director, the Campaign Researcher will:
Analyze the financial and quality records of public agencies and publicly-funded private agencies.

Creatively apply traditional and non-traditional research methods to union campaigns.

Conduct industry and political power analysis for strategic targeting, identifying key industry trends, and developing innovative policy or regulatory strategies

Develop and implement campaign and strategic research strategies and develop appropriate research products.

Participate thoughtfully in developing strategic research and campaign strategy, and provide recommendations for the most effective use of research for Sr. level staff and members leaders

Independently prepare professional level reports appropriate for contract negotiations, Media persuasion, member education, and presentations before public board and commissions on behalf of the members and the union.

Apply research findings to support communication strategies, develop communication related products such as, media "sound bites" or memorable elements pertinent for media or membership, interesting and effective presentations for beginner level member training and persuasive oriented reports and presentations.

Serve as the Local Union expert witness in med-arbs, arbitrations, contract negotiations, public agency and quasi-public agency meetings with elected officials and high level local , state or federal government authorities

Lead research trainings for members and new staff in simple research projects include budget analysis, industry-wide wage and benefit comparisons and how to develop costing analysis for contract bargaining.

Ability to manage the research component of large and strategic research projects; including the ability to build internal and external political relationships.
Job Qualifications:
Strong commitment to progressive social change and activist experience.

Strong research & quantitative skills. Computer skills in Microsoft Word, Excel, & Access and a variety of computer-based research tools. Excellent writing and communications skills a must

Proven ability to utilize information from and about workers, employers, economic / financial research on company or industry to inform and develop campaign strategies.

Experience in budget analysis of public agency and publicly funded agency budgets including familiarity with funding streams for public services.

Understanding of public employee post-employment benefits including retirement, healthcare and wage standards.

Ability to carry out assigned and required tasks independently and in a competent and professional manner in keeping with SEIU's overall goals and expectations.

Ability to work well under tight deadlines and in a team environment.

Proven ability to work with research staff within a labor or progressive community organization (for Leads).

Firm grasp of the legal and regulatory environment within which unions and union research operates.

Bachelor's degree in labor studies, public policy, economics, labor studies or similar field of study.

Willingness to work long and irregular hours and attend required evening and weekend activities.
COMPENSATION:
Compensation: Salary commensurate with experience.

Employer-paid retirement plan & 401K.

Fully-paid health insurance for worker and dependents

Liberal vacation, sick leave and holiday schedule.

Life insurance, dental, vision care and flexible spending accounts.
REQUIREMENTS: Must possess a valid California driver's license; must pass a DMV check and have a good driving record; must have auto insurance that covers business driving (minimum of $100,000 per person/$300,000 per incident bodily injury liability/$100,000 property coverage); and must possess an automobile for business use.
TO APPLY: Send cover letter, resume and references to Riko Mendez, Chief Elected Officer
Attention: Pam Rodgers, Administrative Director
SEIU Local 521
2302 Zanker Road
San Jose, CA 95131
Email: jobs@seiu521.org
Fax: 408-954-1538
No phone calls please.
This position is open until filled; however, the posting/acceptance of applications may close at any time.
AFFIRMATIVE ACTION EMPLOYER:
Local 521 is an affirmative action employer and encourage applications from all qualified candidates regardless of race, ethnicity, age, sex, sexual orientation, marital status, religion, or disability. Local 521 works to ensure fair treatment of applicants and employees and actively enforces policies against discrimination and sexual harassment.
WHEN APPLYING: Be sure to indicate that you saw this information at UNIONJOBS.COM.