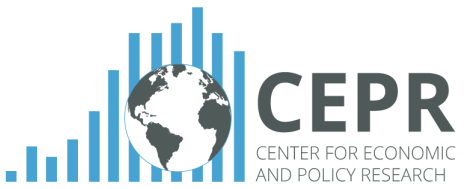 Center for Economic and Policy Research

Development Associate
Washington, DC

The Center for Economic and Policy Research is currently looking for a full-time Development Associate in its Washington, DC office.
Job Description: The Center for Economic and Policy Research (CEPR) is seeking a Development Associate to support the organization's donor and foundation relations and fundraising. The Associate will work with CEPR leadership and staff to steward major gifts, solicit foundation support, plan events, and promote online giving. The ideal candidate will be proactive, flexible, and well-organized. A successful candidate will also have strong research and communications skills, attention to detail, and experience working with foundation and major donors.
Reporting to CEPR's Co-Directors, responsibilities include:
Researching and developing a pipeline of donor prospects;

Managing and tracking a system for donor relationships;

Researching foundations to support CEPR's work;

Developing Letters of Inquiry and preparing grant proposals, both narrative and financial;

Monitoring the impact of CEPR's work and preparing reports for funders;

Conceptualizing and executing online fundraising campaigns;

Planning fundraising events;

Managing gift processing, acknowledgment, donor services and reporting work;

Managing day-to-day development tasks;

Other projects, as assigned.
Qualifications:
A bachelor's degree is required;

At least 2 years of experience in development and/or nonprofit management;

Exceptional organizational skills, strong follow-through, a detail-oriented approach, and the ability to meet deadlines;

Strong writing skills;

Knowledge of donor networks, think tanks, and public policy issues;

Able to work independently;

Familiarity with Salsa and Giftworks or similar software;

A commitment to economic justice.
Applicants affected by the issues that CEPR works on are especially encouraged to apply.
Salary and Benefits: CEPR offers a competitive salary and an excellent benefits package. This position will be represented by the International Federation of Professional and Technical Engineers, Local #70, AFL-CIO.
Closing Date of Position: Monday, January 1, 2018 (at 11:59 PM, Eastern time)
In rare, extenuating circumstances, the application period may be extended or shortened. In the event that the application period is shortened, CEPR will update this posting to notify candidates that they have seven days to apply.
To Apply: Send the following, in a single PDF file, to apply[at]cepr.net with the subject line "Development Associate":
a cover letter;

a résumé, and;

a writing sample (section from a grant proposal or an email solicitation).
Please do not submit additional information apart from the three items listed above. You may address your cover letter to the Development Associate Search Committee if you wish.
If you have any questions, please email cepr[at]cepr.net, the contact for the Development Associate Search Committee. Absolutely no calls or faxes, please, and no additional emails.
Organization Description: The Center for Economic and Policy Research (CEPR) was established in 1999 to promote democratic debate on the most important economic and social issues that affect people's lives. It is an independent, nonpartisan think tank based in Washington, DC. CEPR is committed to presenting issues in an accurate and understandable manner, so that the public is better prepared to choose among the various policy options.
CEPR is an ideal place to learn about current economic and global justice issues in a friendly, relaxed and fun environment. Work schedules are flexible.
CEPR is an equal opportunity employer that considers applicants for all positions without regard to race, color, religion, creed, gender, national origin, age, disability, marital or veteran status, sexual orientation, or any legally protected status.
WHEN APPLYING: Be sure to indicate that you saw this information at UNIONJOBS.COM.