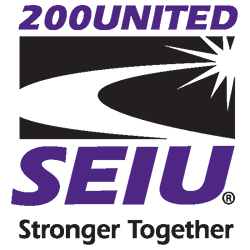 Organizer / Organizer-In-Training
Higher Education Campaign
Based in New York, NY

For 100 years, SEIU has been helping workers stand up for their rights, fighting for dignity, respect and better conditions in workplaces and communities. With a membership 2 million strong, SEIU is the fastest-growing union in the United States and our diverse leaders and staff support workers as they speak out for good jobs and better lives for themselves and their families.
SEIU Local 200United has a diverse membership of 15,000 in NY, PA, and VT. In the past three years, Local 200United has helped contingent faculty at nine institutions join our Union; recently including 900 faculty members at Fordham University in a 16-to-1 vote margin.
We are seeking an Organizer or Organizer-In-Training (OIT) to work on aggressive campaigns in higher education. As an Organizer/OIT, your role is to work with a team of staff and members to support workers who are fighting to win power by building a Union in their workplace.
Position is available in New York, NY. This is a 1 year position.
Responsibilities Include (but are not limited to):
Conducting broad and intensive outreach efforts to workers.

Building one-on-one relationships with workers, and educating them about building Union power.

Identifying and developing leaders to guide and lead their campaign.

Motivate and inspire workers to build their Union in the face of heavy-and often illegal-employer opposition.

Using house visits and phone calls to identify workers interested in forming a Union.

Working long and irregular hours, often including nights and weekends.

Conducting individual and group meetings with workers to discuss and plan organizing campaigns.

Motivating individual workers and groups of workers to take collective action.

Working to involve community allies in organizing campaigns.

Conducting research needed to build a comprehensive campaign.
Previous experience in Union or community organizing is desirable. A demonstrated commitment to social justice is required.
Qualifications:
Willingness to work long hours, nights, and weekends.

Capacity to work independently and with a team.

The ability to make and follow through on a work plan.

Excellent communications skills.

Basic writing and computer skills.

The ability to work with people from diverse backgrounds.

Willingness to conduct house visits and site visits.

A car and a valid driver's license are required.
Compensation:
Competitive salary based on experience, full benefits package including 100% employer-paid family health and dental insurance, and a car allowance. This is a salaried position.
HOW TO APPLY
Please send your cover letter and resume: cmachanoff@local200united.org.
WHEN APPLYING: Be sure to indicate that you saw this information at UNIONJOBS.COM.