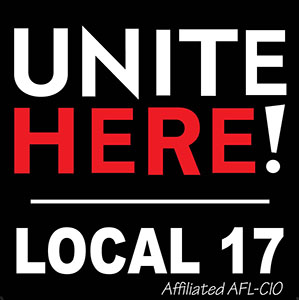 Business Agent/Organizer
Based in Minneapolis, MN

UNITE HERE is a progressive labor union, fighting for dignity, living wages and affordable health care for low wage hospitality workers. Our 270,000 members work primarily in hotels, food service, casinos and gaming. Through organizing and winning good contracts.
UNITE HERE Local 17 has an immediate opening for Business Agent/Organizer. Candidates must demonstrate a commitment to working for social justice by building a strong labor movement. The position entails irregular hours including work in the evenings and weekends. Spanish speakers are strongly encouraged to apply.
Responsibilities:
Fosters recruitment and training of a network of union stewards

Prepares leaflets, bulletins, etc. for communication with membership.

Recruit and develop worksite leaders to become involved in the Advocate program and other union activities.

Identifies and develops leaders and volunteer organizers from within membership.

Visit job sites to communicate with workers.

Collects and updates member information.

Writes leaflets and other materials for organizing campaigns.

Maintain lists which may include, employee charts and mapping of membership using computerized database systems.

Informs supervisors of activities, developments and progress of organizing activity.

Uses knowledge of basic labor law such as NLRA, FMLA, ADA, OSHA, Workers Compensation and Fair Housing and Employment.

Promptly return phone calls, especially to members.

Oversees administration and enforcement of collective bargaining agreements in assigned areas, including:

Filing and processing claims and grievances on behalf of union members.

Preparing for arbitrations

Participating in contract campaigns, assisting and/or leading contract negotiations;

Ensuring compliance with collective bargaining agreements.

Educates and engages members on issues of importance to our members.

Effectively addressing member and employer questions and problems.

Complete documentation as required

Following all rules and regulations regarding safety

Abide by any and all ethical practices in the International Constitution or The Local's bylaws

Other duties as assigned by Unite HERE! Local 17's leadership or executive board
Salary and Benefits
Pay is determined by CBA. Excellent benefit package, including Health and Dental Insurance, Pension, and Car Insurance reimbursement for business use.
Application Process
Submit a letter of interest and resume to uniteherelocal17@gmail.com.
WHEN APPLYING: Be sure to indicate that you saw this information at UNIONJOBS.COM.