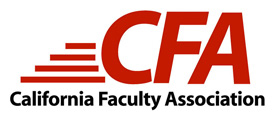 Deputy Chief of Staff
Sacramento, CA
Affiliated with: SEIU, CTA/NEA, and AAUP
CFA is a union of 28,000 faculty members, librarians, counselors and coaches of the California State University (CSU) system. In classrooms on the 23 CSU campuses, CFA members work hard to teach our students the critical thinking skills, the technical know-how, and the cultural insights they need to be thoughtful, productive, and artistic participants in our society.
CFA is one of the largest higher education labor unions in the U.S. In its role as the exclusive collective bargaining representative, CFA negotiates a contract with the CSU administration that promotes academic freedom, upholds faculty rights, delivers financial protection for the faculty, and promotes faculty participation in the governance of the CSU.
CFA has an explicit commitment to racial equity throughout the entire organization and is seeking candidates with a strong knowledge and background in racial equity work. Candidates who have experience in engaging in racial and social justice work (formally or informally) and can translate that into the range of job responsibilities listed below are strongly encouraged to apply.
CFA is proud to be a member run union and believes in employing hard-working and creative staff whose talents complement those of our elected leadership. For more information about the CFA, visit our website at www.calfac.org
Deputy Chief of Staff
Location: Sacramento, CA
The Deputy Chief of Staff serves as part of a statewide team that designs, plans and implements CFA programs and campaigns. Working under the direction of the Chief of Staff, the Deputy Chief of Staff manages and directs union activities and staff in accordance with CFA bylaws and policies established by an elected Board of Directors. CFA's staff includes approximately 40 employees (including 9 managers) based throughout California in the CFA Sacramento Headquarters and on the 23 CSU campuses. The Deputy Chief of Staff acts for the Chief of Staff, and fulfills substantive day-to-day duties associated with that role, in the Chief of Staff's absence. This senior level management position reports directly to the Chief of Staff, and supervises three administrative staff.
Example of Duties:
Human Resources Management, including employee recruitment, evaluation, training, discipline, safety, and benefits administration;

Anti-Racism/Social Justice Transformation, including intentionally working to infuse racial and social justice values into the everyday work of CFA;

Confidential Legal Services, including providing legal opinions to management and staff on laws that affect CFA, evaluating and defending claims made against CFA, and providing training for staff on legal procedures, labor law and other subjects;

Building Management, including managing the maintenance/improvement of the CFA office building, tenant relations, building security, and implementing outside use policy;

Liaison with External Constituencies (Affiliates/Legislators/CSU Administration/community alliances).
The ideal candidate will have the following:
Skill and progressive experience in Human Resources administration, including the evaluation of staff, benefits administration, and staff development/training;

A strong commitment to advancing racial and social justice transformation in the union movement, the university and beyond;

Record of accomplishment in collective bargaining;

Skill, experience and acumen in building and managing staff teams; strong skills in motivating and leading staff;

Skill and experience in providing confidential legal services, including investigations, legislative analysis and contract interpretation, and other general legal services;

Skill and experience in strategic thinking, organizational development, campaign development and long term planning;

Ability to work cooperatively and strategically with union officers, member leaders, and senior staff to develop and implement CFA programs;

Facility Management experience.
Requirements:
Staff management experience in a union, political, or grassroots association;

Demonstrated skill, experience and acumen in developing and managing staff teams, particularly in developing and leading staff;

Demonstrated ability to infuse racial and social justice work into the everyday work of CFA;

Experience bargaining or administering collective bargaining agreements, preferably in the public sector;

Ability to interpret laws, rules and policies;

Demonstrated skill and experience creating and implementing strategic plans;

Familiarity working with union officers and member-based committees;

Excellent writing, oral communication and public speaking skills;

Bachelor's Degree; law degree preferred.
Other Requirements:
The Deputy Chief of Staff is required to devote full time to the position and works a non-standard work week including evenings and weekends when required.

Frequent travel within the state and some limited travel outside the state.

Valid driver's license, an automobile for business use, and proof of minimum insurance coverage.

Ability to lift 25 lbs.

Excellent written and oral communication skills.
Salary/Benefits: CFA offers a fully paid benefit package including medical, dental, vision, pension and generous paid vacation leave.
To apply, send cover letter and resume with references and two writing samples to:
searchcommittee@calfac.org
CFA is an Affirmative Action Employer.
Women, People of Color/Native People, members of the LGBTQIA community,
and people with disabilities are strongly encouraged to apply.
WHEN APPLYING: Be sure to indicate that you saw this information at UNIONJOBS.COM.