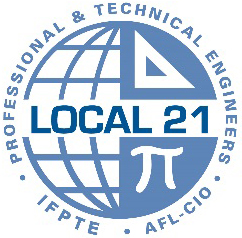 Local 21, International Federation of Professional and Technical Engineers (IFPTE)

Executive Director
Based in San Francisco, CA

Application Deadline: December 8, 2017
Position Profile:
Local 21 of the International Federation of Technical and Professional Engineers (IFPTE) is seeking an accomplished labor leader to assume the position of Executive Director.
The Executive Director is the local's chief executive officer. The Executive Director provides overall direction and leadership for the union and is responsible for its day-to-day operation in conformance with policies set by the Delegate Assembly, Executive Committee, and Local 21 by-laws. The Executive Director works in cooperation with the Executive Committee, Chapter leadership and union's membership.
The current Local 21 Executive Director has served for 10 years, and is retiring. The leadership of the local is looking for an Executive Director who can continue to build on the significant growth and achievements this union has accomplished for its members.
The Executive Director is responsible for administration, planning, budgeting, staff supervision (including hiring, discipline, and termination), as well as developing and implementing local union programs in the areas of collective bargaining, political action, organizing and membership services. The Executive Director serves as the chief strategist and advisor for the local's collective bargaining agreements.
Local 21 is seeking a leader with vision who understands and believes in collaborative decision making and has a proven record of accomplishment in collective bargaining and union administration. This leader will be comfortable working in a highly complex and diverse urban environment.
About Local 21:
Local 21 is an innovative, growing union of more than 10,000 professional government employees in major jurisdictions throughout the Bay Area. This union has realized 80% growth in the past 10 years due to its reputation and accomplishments.
The union governance structure provides a large degree of autonomy for the 35 union chapters.
Members of Local 21 are employed in 17 county, city, educational and special districts, all within the Bay Area region. The union employs a staff of 30 professional and administrative employees and maintains offices in San Francisco (the union's headquarters), Martinez, Oakland, and San Jose. The annual union budget is over 9 million dollars.
Local 21 is financially stable, has active rank and file leadership and a solid record of progressive representation and organizing. This union is strategically and financially prepared for Janus.
Local 21 offers a positive, drama-free work environment, with frequent victories occurring even in these challenging times for public sector unions. Local 21 members and leaders are deeply engaged in resistance activities, and working hard to integrate these early efforts and lessons learned into our culture.
The next Local 21 Executive Director will need to address the following Opportunities and Challenges:
Work with the Local's Executive Committee to develop a strong, realistic strategic plan based on a shared vision and mission

Maintain a sound fiscal policy including working with the Executive Committee to set financial priorities and criteria for allocation of monies including building the reserve, equipment replacement and program and staff expansion

Continue the development of effective administrative procedures including a staffing plan that appropriately allocates knowledgeable and skilled field representatives across all chapters

Enhance the existing membership communication system for the organization

Build the capacity of officers, delegates and members to take a more active role in the union

Organize activities to grow and strengthen union membership

Manage four offices and a staff of 30 over a large geographical area

Work with community groups, other unions, the international union and politicians in mutual efforts benefitting our members and their communities

Continue to develop and maintain a diverse staff of dedicated professionals

Respond effectively to the needs of a changing membership including millennials

Continue the progressive tradition of Local 21 in addressing local, state, and world issues
Ideal Characteristics:
A leader with integrity, honesty, and professionalism

A leader with a demonstrated record of dedication to professional level public sector union goals and values

An individual who is open, collaborative, inclusive, and is committed to empowering members, staff and elected union leaders

A dynamic leader with vision and the ability to prepare Local 21 to thrive in a post-Janus world

A proven manager with administrative and management skills (including personnel, organizational and fiscal management) with the demonstrated ability to develop and motivate staff, and promote diversity

An individual with the ability to build consensus

A leader with union organizing and collective bargaining skills especially as it applies to the public sector

A leader with a sophisticated understanding of the "big picture" of the labor movement including knowledge of economic and political trends

A leader with a demonstrated ability to effectively collaborate with elected union leadership

A leader with a demonstrated ability to build partnerships with community organizations and other stakeholders
Minimum Requirements:
Bachelor's Degree required; Graduate degree preferred

Eight years of experience in a paid staff position in the labor movement, labor relations, employee advocacy, or related fields

A minimum of three years of senior management experience in a labor union; public sector union experience preferred
Salary and Benefits:
Annual salary in the range of $150k - $180k depending on qualifications and experience

Competitive benefit package with health care, defined benefit pension, and leave provisions
The Application Procedure:
To apply, please submit three (3) separate documents:
A letter of application that succinctly addresses the challenges and the opportunities identified in this recruiting announcement and how your experience and professional qualifications prepare you to serve the needs of Local 21 (not to exceed three pages)

A current resume including an e-mail address and contact phone number
All materials must be sent electronically to
Jim Potterton of search consultants Margolies and Potterton
at this email address: jpotterton@sbcglobal.net
For all questions regarding this search including confidential inquiries contact:
Ken Margolies (East Coast) Jim Potterton (West Coast)
Kam47@cornell.edu jpotterton@sbcglobal.net
(845) 499-6636 (Eastern time zone) (831) 332-9324 (Pacific time zone)
All inquiries and material submitted will be kept confidential
Deadline for Applications: 5PM PST Friday December 8, 2017
OUR COMMITMENT TO EQUITY AND FAIRNESS
FPTE Local 21 is deeply committed to diversity and inclusion in our hiring practices. We are an affirmative action, equal opportunity employer and interested in applicants of all ages, races, sexual orientations, national origins, ethnicities, religions, and genders.
To protect the integrity of this search and selection process we require that all prospective Executive Director candidates and their advocates refrain from contacting members of the Local 21 leadership about this position. Any questions or concerns about the application and selection process should be directed to the Search Consultants listed above.
WHEN APPLYING: Be sure to indicate that you saw this information at UNIONJOBS.COM.