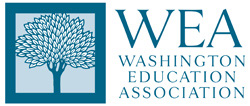 Field Assistant III
WEA Chinook UniServ Council
Tumwater, WA
Post Date: October 12, 2017
The Washington Education Association is seeking applicants for the position shown below. A job description and application is included on the following pages. This position is currently available to internal and external applicants.
To be considered for the position the following documents are required:
Cover letter

Updated résumé reflecting qualifications for this position

Signed WEA application form

Three (3) professional letters of reference
Washington Education Association application forms are required and may be obtained by selecting Online Application at the end of this page. Applications also may be obtained at the Washington Education Association located at 32032 Weyerhaeuser Way South, Federal Way, WA 98001, or by calling Human Resources at 1-800-622-3393 extension 7002.
The deadline for receipt of cover letter, résumé, signed application form and letters of reference is on or before Thursday, October 26, 2017.
Please send your application to:
Washington Education Association
Attn: Karen Knight / HR Generalist
PO Box 9100
Federal Way, WA 98063-9100
(253) 765-7002 (Direct)
(253) 946-4726 (Fax)
kknight@washingtonea.org
The Washington Education Association is an equal employment opportunity employer. It is the desire of the Washington Education Association to interview applicants from an applicant/interview pool that reflects the diversity of the greater community for each vacancy as it occurs.
________________________________________
Job Description – Field Asst. III – WEA Chinook UniServ Council
Supervision: The job is performed under the supervision of the Director of Advocacy and reports directly to WEA Headquarters.
Purpose: The primary purpose is to provide general administrative and clerical accounting support for the Chinook UniServ Council and WEA Headquarters office while actively engaged in organizing WEA members in the field.
Job summary: The Field Assistant Level III maintains and ensures the complete and systematic processing of the Council accounting records, regulatory requirements, membership records and expenditures reportable to the Public Disclosure Commission (PDC), while supporting WEA Headquarters accounting and membership needs. Provide support for member organizing by assisting members, staff and outside agents with problems through researching questions and providing information and materials. Provides administrative and clerical support for the Council and actively initiates and staffs field organizing plans and activities that build power for the Council and the WEA.
________________________________________
Essential job functions
Accounting/Regulatory
Prepare for signature by officer(s) cash disbursement checks based upon approved supporting documentation.

Prepare financial reports, bank reconciliations, and deposits as required.

Maintain general ledger, equipment inventory, and building/equipment insurance coverage.

Coordinate and prepare documents for annual audit, regulatory and tax filings and other reports as needed.

Assist in the preparation of the Council budget.

Assist in tracking, reporting and filing of expenditures to the Public Disclosure Commission (PDC).

Supports WEA Headquarters accounting needs.

In coordination with the Chief Financial Officer, provide guidance to Local Association regarding regulatory requirements, tax filings and general budgeting.
Membership processing
Collect, record and maintain information pertaining to membership dues, dues status, and demographic data. Provide reports where necessary.

Research, gather and provide information to and with various entities, i.e. locals, school districts, NEA, WEA Headquarters, etc., for the timely and accurate processing of membership data and dues.

Communicate with district payroll officers, WEA Membership Department, and others to facilitate monthly reconciliations.

Prepares monthly billing of membership for District payroll and processes the dues.

May process membership from other WEA offices as assigned by WEA.
Administrative support
Maintain office files and computer databases.

Produce various correspondence and communication pieces.

Assist with communication to local associations and members.

Receive and assist visitors, direct and answer telephone calls and in-person requests.

Schedule travel and meeting activities.

Assist WEA Headquarters with administrative support.

Staffs, organizes and implements Council and WEA Headquarters organizing efforts.

Participate in field organizing activities which may entail organizing large scale events.
Other duties as assigned
WEA believes each employee makes a significant contribution to the success of the Washington Education Association. This job description is designed to outline primary duties and qualifications, but not limit the employee or the WEA to just the work identified. It is our expectation that every employee will offer his/her services wherever and whenever necessary to ensure the success of achieving the WEA mission, goals and priorities.
Additional responsibilities:
Assist with leave reporting as needed.

May record minutes at meetings.

Agency Fee coordinator/contact.

Religious Objector records and bookkeeping.

Coordinates Local Association Treasurer training.

Support and participate in Council and Local organizing efforts as needed.

Supports WEA's statewide personnel needs.

Act as computer troubleshooting backup.
Attendance and punctuality are crucial in accomplishing the ongoing job functions of this position. This position is not exempt from overtime and is covered under the WEA/WEASO Collective Bargaining Agreement.
________________________________________
Minimum job requirements
High school graduate or GED equivalent.

Minimum of two (2) years administrative or equivalent experience.

Experience in bookkeeping, accounting or administrative assignments involving advanced record keeping and knowledge of accounting practices and accepted accounting procedures.

Competence with computerized accounting software (Quicken, QuickBooks, etc.)

Demonstrated proficiency in the use of Microsoft Office Professional with emphasis on Word, Excel and Outlook.

Ability to type a minimum of 50 wpm using word-processing software.

Thorough knowledge of office practices, procedures and equipment.

Thorough knowledge of business English, spelling, grammar, punctuation and the ability to compose and edit/proof documents.

Experience maintaining a large database and enter data quickly with a high degree of accuracy.

Strong interpersonal skills, including experience in dealing with members/customers. Must support and maintain relations with outside agencies and organizations for the purpose of ongoing communications.

Proven success in building and maintaining productive, collegial relationships with diverse individuals both internally and externally.

Ability to work well with others and, under pressure, demonstrate poise, tact and diplomacy.

Self-starter. Demonstrate initiative regarding assignments and be flexible with changing priorities. Must be well organized, possess the ability to pay attention to detail and prioritize and coordinate office workloads.

Ability to keep client information confidential.

Must support and help advance the WEA mission, goal and core values.
_______________________________________
Preferred job requirements
Experience in public education, unions or related employment.

10-key by touch.

Experience in the use of Web content editing software and the ability to maintain a website.

Experience with desktop publishing software.

Experience with organizing people and actions.
________________________________________
Salary range and benefits
Salary:
Level III (C) – $58,089 – $82,857 / YR.
Benefits:
Medical, Dental, Vision and Life Insurance

Generous sick and vacation leave (PTO)

Long-term disability

Defined Benefit Plan and Defined Contribution Plan (w/employer contribution)

Position covered by the WEA/WEASO Collective Bargaining Agreement
________________________________________
Application procedure and references
In order to be considered for this position, a completed and signed WEA application form including résumé, cover letter and three (3) professional letters of reference must be submitted to WEA Human Resources on or before October 26, 2017. Please submit your application materials online by following the link below.
Applicants must provide three letters of recommendation from individuals having professional knowledge of the applicant's background and work experience. The letters must include current email/mailing addresses, telephone numbers and contact names.
Important note: When submitting your application materials online, select Save as Draft until you have all materials together and ready to be attached and uploaded - i.e., cover letter, resume, application and three professional reference letters. This will ensure your application materials remain together as a single submission.
WHEN APPLYING: Be sure to indicate that you saw this information at UNIONJOBS.COM.